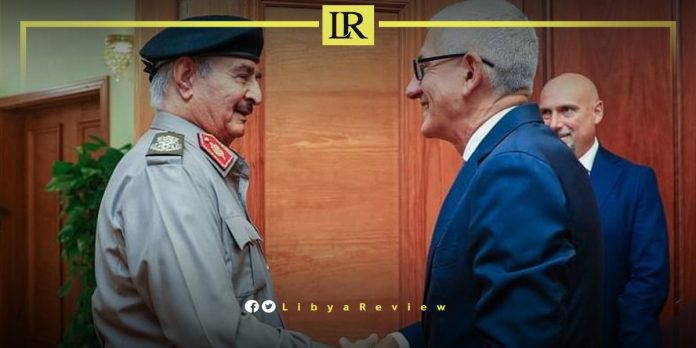 In a significant diplomatic move, the General Commander of the Libyan National Army (LNA) Field Marshal Khalifa Haftar received Italian General, Gennaro Vickyoni at his office in Benghazi.
Vickyoni, spearheading a high-ranking delegation from Italy, arrived to discuss the aftermath and repercussions of the catastrophic storm, Daniel, which heavily impacted the country.
Expressing deep condolences on behalf of the Italian government, General Vickyoni conveyed Italy's solidarity with the Libyan people and leadership. Especially concerning the tragic events that recently affected the cities in the Green Mountain region, and eastern coastline.
In turn, Haftar lauded the proactive support and relentless efforts of the Italian government. He highlighted Italy's swift action in sending rescue missions, humanitarian aid, advanced equipment, as well as medical and logistical support in these challenging times.
On Monday, the Health Minister of the Libyan Parliament-designated government, Othman Abdel-Jalil revealed that the death toll has reached 3,283 in the areas affected by last weeks storm.
He told Russia's Sputnik news that the latest statistics, as of Monday, indicate that 3,283 deaths have been confirmed, and have already been buried.
Abdel-Jalil noted that "these numbers are not final, and do not reflect the true figure, as there are still many missing individuals and rescue operations are ongoing."
He also denied the presence of any epidemic risks in the affected areas.
Notably, the United Nations Children's Fund (UNICEF) estimated that nearly 30,000 children were affected by the storm.
It added in a report that "a growing number of children and families are in desperate need of humanitarian assistance, following significant damage to numerous homes, hospitals, schools, and other essential infrastructure."
UNICEF said that storm Daniel unleashed havoc across eastern Libya last week, bursting dams and destroying buildings in many towns, particularly in Al-Bayda, Al-Marj and the coastal city of Derna.
Derna, a town of about 90,000 people, was already severely affected by conflict, and its path to recovery is now set back years given the immense devastation.