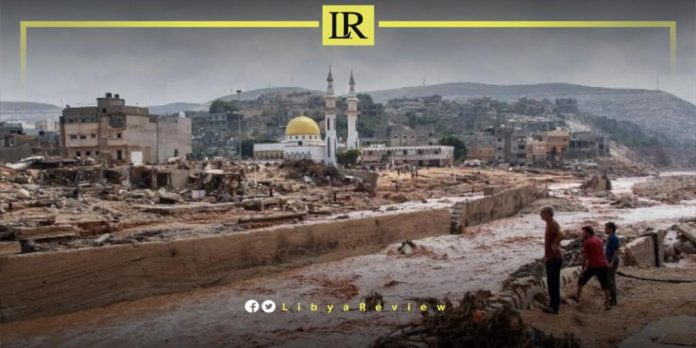 On Friday, the Spokesperson for Libya's High Committee for Emergency and Rapid Response, Mohammad Al-Jareh, revealed that the death toll resulting from Storm Daniel has tragically risen to 3,753 in the city of Derna.
Addressing a press conference from the city of Shahhat, Al-Jareh discussed plans for psychological care in the affected areas in the aftermath of the storm.
He announced the formation of an advisory group comprising several prominent figures to provide support to the High Committee for Emergency and Rapid Response.
Al-Jareh also touched upon the establishment of an interim committee for the municipality of Derna. He affirmed that it would be the voice of the city in the coming phase, serving as a replacement for the dismissed municipal council.
He noted that a conference for the reconstruction of Derna is scheduled for October 10th, as announced earlier by the Parliament-designate government. He indicated that "innovative and swift" ideas will be presented to facilitate the reconstruction of Derna and other affected areas.
Notably, on September 10th, a devastating storm swept through several eastern regions of Libya, notably the cities of Derna, Benghazi, Al-Bayda, Al-Marj, and Sousse. This resulted in significant destruction and led to the loss of thousands of lives, injuries, and missing individuals.
Last week, Libyan Foreign Minister of the of the Parliament-designate government, Abdel-Hadi Al-Hwaij, extended a special invitation to the French government to organise an international conference aimed at rebuilding of Derna. He urged the international community and major industrial countries to share responsibility for the climate change crisis currently affecting Libya.
Al-Hwaij believes that what happened is related to climate change. "We are victims of emissions from major industrial countries that pollute the environment, victims of their failure to adhere to the agreements reached at the climate summit in Marrakech," he said.
"Major industrial countries contributed to the climate change that Libya is experiencing," he added.
The Libyan top diplomat emphasised that Libya is going through challenging days following the Mediterranean storm Daniel, which resulted in heavy casualties and widespread devastation. He stated in an interview with Monte Carlo International news that the incident is "related to climate change."
Al-Hwaij pointed out that the storm and floods were exceptionally powerful, resulting in almost a quarter of Derna being wiped out.