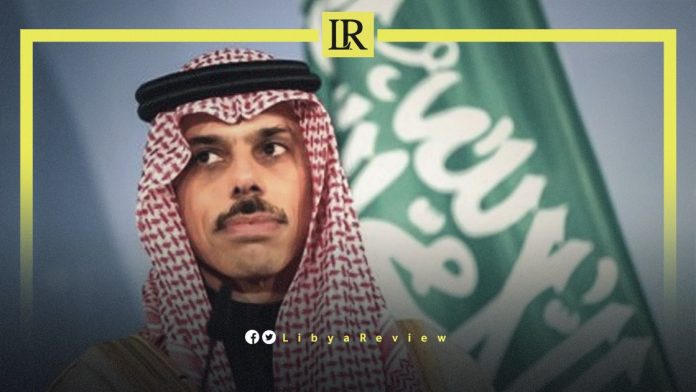 Saudi Arabia's Foreign Minister, Prince Faisal bin Farhan bin Abdullah, called for the complete and immediate withdrawal of all foreign forces, fighters, and mercenaries from Libya.
This came during his speech at the 78th session of the United Nations (UN) General Assembly in New York on Saturday.
The Saudi Foreign Minister affirmed the importance of achieving security and stability in Libya, ensuring its sovereignty, independence, territorial integrity, and ending interference in its internal affairs, according to the Saudi Press Agency (SPA).
He underscored the Kingdom's support for a comprehensive ceasefire in Libya, highlighting the need for countries to adhere to the UN Charter and principles of international legitimacy.
Prince Faisal expressed Saudi Arabia's aspiration for a better future for humanity, based on mutual respect for the sovereignty and independence of nations, peaceful dispute resolution, as well as a commitment to refrain from using or threatening to use force.
Recently, Saudi Arabia announced that it will send aid to Libya following the devastating floods, according to the Saudi Press Agency (SPA).
"This directive is an extension of the continuous support provided by the Saudi government, to stand with all sisterly and friendly countries in various circumstances and trials they face," General Supervisor of the King Salman Humanitarian Aid and Relief Centre (KSrelief), Abdullah bin Abdulaziz Al Rabeeah told SPA.
Al Rabeeah affirmed that the aid would be delivered by the centre, in coordination with the Libyan Red Crescent and several international humanitarian organisations operating in the region.
The step aims to is to provide immediate assistance to the affected population, as soon as possible, according to SPA.
Last week, a second relief plane from Saudi Arabia departed from Riyadh's King Khalid International Airport, bound for Benghazi, Libya. It was carrying 40 tons of vital food assistance to aid those affected by the devastating floods.
This aid is being dispatched under the directives of King Salman bin Abdulaziz Al Saud, and Prince Mohammed bin Salman bin Abdulaziz Al Saud, the Crown Prince and Prime Minister.
The KSrelief is leading the efforts in coordinating the distribution of relief supplies, in collaboration with the Libyan Red Crescent.
This assistance serves as a testament to the humanitarian role undertaken by Saudi Arabia, demonstrating its commitment to supporting friendly nations during times of crisis and adversity.