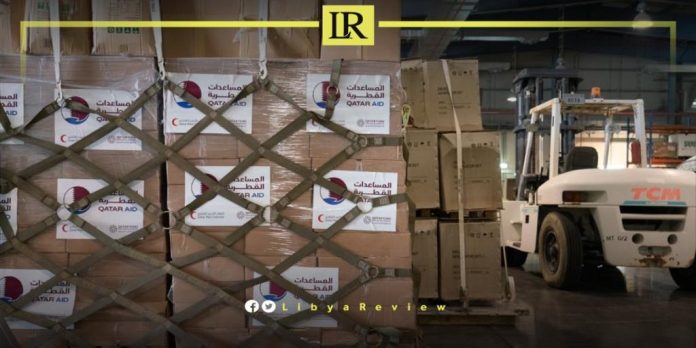 On Sunday, Benghazi's Benina International Airport welcomed the seventh and eighth relief flights from the Qatari Air Bridge, aiming to provide much-needed support for those impacted by the devastating floods in eastern Libya.
Together, these two flights delivered a substantial 58 tons of emergency relief and humanitarian assistance, addressing the urgent needs arising from the flood-affected regions. This contribution takes Qatar's total aid to the flood victims in Libya to an impressive 267 tons.
This aid comprises essential shelter supplies, power generators, vital food items, and crucial medical and relief materials. The collective effort behind this initiative includes the Standing Committee for Rescue and Relief Works, Qatar Fund For Development (QFFD), Qatar Red Crescent Society, and Qatar Charity, all collaboratively working to extend their support.
The Qatari government remains committed to its solidarity with Libya, emphasising its "dedication to standing shoulder-to-shoulder with its Libyan brethren during these challenging circumstances."
This move by Qatar comes after the Libyan Presidential Council announced Derna, Shahat, and Al-Bayda as disaster zones. In response, numerous Arab countries, along with Turkey, have stepped forward, extending their assistance and dispatching rescue teams to aid the affected and to search for those still missing.
On the 10 September, a devastating storm swept through several eastern regions of Libya, notably the cities of Derna, Benghazi, Al-Bayda, Al-Marj, and Sousse. This resulted in significant destruction and led to the loss of thousands of lives, injuries, and missing individuals.
Notably, the International Organisation for Migration (IOM) noted that the floods have forced an estimated 43,059 individuals to flee their homes.
In a recent report, the IOM said the scarcity of water supply has been a driving factor behind the displacement of many residents from Derna. This shift has contributed to a decrease in the overall number of displaced individuals, within Derna itself.
As the situation develops, more displaced individuals are relocating to eastern areas, such as Tobruk, where approximately 1,320 people have sought refuge. Benghazi has also seen an influx, with around 730 seeking shelter there. The majority of these are being hosted by relatives and extended families.
According to the IOM, field observers have reported that displaced families from Derna are also seeking refuge in Tripoli, Misrata, Gharyan, and Qasr bin Ghasheer. Many of them are temporarily staying with host families, who have opened their doors to provide shelter.
The most pressing needs identified by the displaced population include access to food, drinking water, mental health, and psychosocial support. Additionally, households with school-aged children are particularly concerned about their children's ability to attend school and the availability of educational supplies in their new locations.