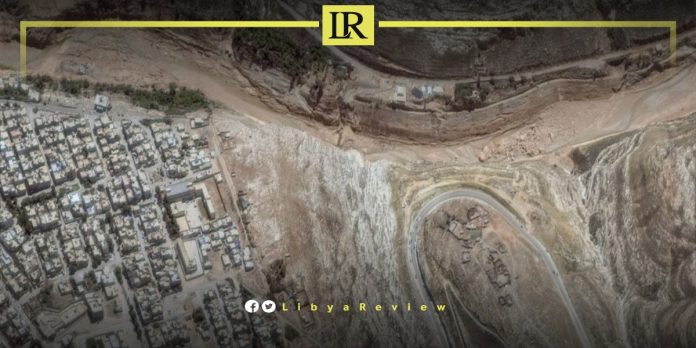 In response to the devastating aftermath of storm Daniel, the Libyan Government of National Unity (GNU) has announced plans to build three new dams in the flood-stricken city of Derna.
In press statements, Omar Al-Maghribi, who heads the Dams Administration under the GNU's Ministry of Financial Resources, confirmed that firms had been contracted for the project. However, the identities of the contracted companies, and projected financials remain undisclosed.
The collapse of two dams was identified as a primary catalyst behind the massive destruction of life, property, and infrastructure in Derna.
Historical records indicate that maintenance for these dams has been notably lacking over the last ten years, amidst the backdrop of Libya's ongoing political turmoil. Notably, foreign enterprises accountable for the original dams ceased operations in the region.
Control over Derna remains outside the control of the Tripoli-based GNU, with the city and much of eastern Libya under the authority of the eastern forces.
During the height of storm Daniel, the Bou Mansour Dam, boasting a storage capability of 22.5 million cubic meters, and situated 13 kilometers away from Derna, ruptured. This breach consequently overwhelmed the adjacent dam, located a mere kilometer from the coastal city, with a storage threshold of 1.5 million cubic meters.
Post-storm analyses by the Libyan Audit Bureau criticized the Ministry of Water Resources for overlooking the upkeep of the Derna dam. The report spotlighted an unsettled invoice of €2.286 million euros for maintenance services by the Turkish firm, Bressel, in 2020.
On 10 September, a devastating storm swept through several eastern regions of Libya, notably the cities of Derna, Benghazi, Al-Bayda, Al-Marj, and Sousse. This resulted in significant destruction and led to the loss of thousands of lives, injuries, and missing individuals.
Notably, the International Organisation for Migration (IOM), revealed that the recent floods in northeastern Libya, have forced an estimated 43,059 individuals to flee their homes.