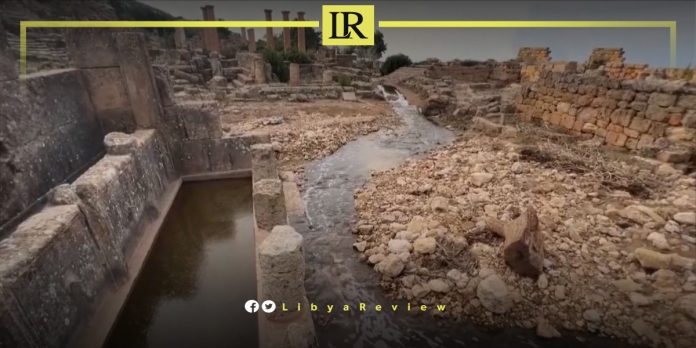 Devastating floods in Libya have exposed previously hidden ancient Greek city near Derna, according to Euronews website.
Libyan authorities who arrived to assess the damage, and salvage any historical remnants in the ancient city of Cyrene, stumbled upon structures that had lain hidden for centuries beneath layers of earth and debris.
Dr. Ahmed Issa from the Department of Archeology at Omar Al-Mukhtar University told Euronews that a national committee consisting of experts should be formed, to classify the new archaeological monuments and develop a plan to restore the area.
Flourishing during the fourth century BC, Cyrene became a hub of agricultural and commercial activity, several Greek baths, the Temple of Zeus, and the Temple of Apollo are among its notable landmarks.
The catastrophic floods that swept through Libya have had dire consequences, leading to the loss of thousands of lives, the destruction of residential buildings, and the obliteration of critical infrastructure such as roads and bridges, particularly in the city of Derna.
On 10 September, a devastating storm swept through several eastern regions of Libya, notably the cities of Derna, Benghazi, Al-Bayda, Al-Marj, and Sousse. This resulted in significant destruction and led to the loss of thousands of lives, injuries, and missing individuals.
The Secretary-General of the United Nations Antonio Guterres has called a flood that killed thousands in Derna, Libya a "symbol of the world's ills."
"Even as we speak now, bodies are washing ashore from the same Mediterranean sea where billionaires sunbathe on their super yachts," Guterres said in the opening of the 78th session of the UN General Assembly.
"Derna is a sad snapshot of the state of our world – the flood of inequity, of injustice, of inability to confront the challenges in our midst," he added.