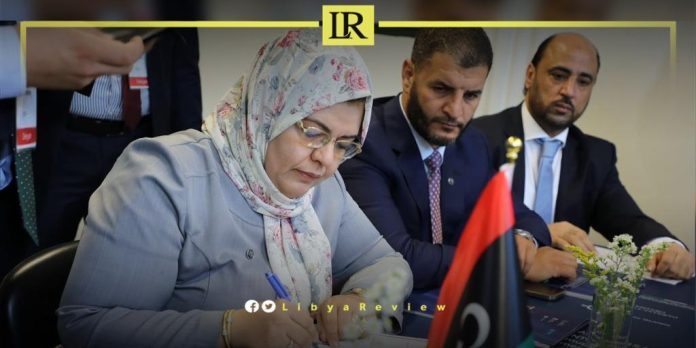 On Friday, Libya's Ministry of Justice signed a prisoner exchange agreement with Italy.
Libyan Minister of Justice, Halima Al-Bousefi signed the agreement with her Italian counterpart, Carlo Nordio. This was on the sidelines of the international conference of the parties to the United Nations Convention against Transnational Organized Crime, held in the Italian city of Palermo.
The ministry said in a statement that, the signing ceremony was "attended by the Acting Minister of Interior, Emad Al-Tarabulsi, and the Acting Minister of Foreign Affairs, Taher Al-Ba'our."
According to the Italian news agency, Nova, the agreement stipulates that prisoners can serve their sentences in their country of origin, after evaluating each case individually.
Nova reported that there are reports that the Italian side has informed Khalifa Haftar of its intention to "release the Libyan football players detained in Italy, by the end of 2023."
In August 2015, four young Libyans in Sicily were sentenced by the magistrates of Catania to 30 years in prison. They were accused of organising a crossing from Libya, in which 49 migrants died.
In April 2022, the Chairman of the Foreign Affairs Committee of the Libyan Parliament, Youssef Al-Agouri, held a virtual meeting with human rights activist and advisor to the International Crisis Group, Claudia Gazzini.
Gazzini is following up on the conditions of the youths. Sbe briefed Al-Agouri on the health, psychological, and legal conditions of the detained Libyans, and the possible ways to reduce their sentences.
The Libyan MP stressed that the Foreign Affairs Committee is ready to make all efforts to release the Libyan footballers.
"Those Libyan athletes have believed that they would find a better future in Europe, but rather, they found themselves serving a long sentence in the prisons of a foreign country far from their family and homeland," Al-Agouri said.
In turn, Gazzini confirmed that she and a team of lawyers are seeking to appeal the case and obtain new testimonies from the migrants who were on the capsized boat.
"This is not an easy task because it requires searching for immigrants on that trip and persuading them to cooperate and give their testimonies," she explained.