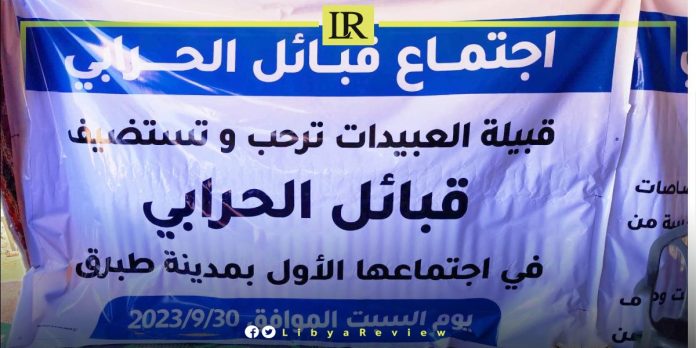 In a pivotal meeting concluded on Saturday in Tobruk, the Harabi tribes, constituting the Obaidat, Fawaid, Hasa, Oulad Hamad, Darsa, and Baraasa, have fervently called for an end to the ongoing conflict and disputes regarding legitimacy among the legislative, executive, security, and military authorities in Libya.
In a statement released post-meeting, the tribes have requested the 6+6 Joint Committee to "finalize electoral laws, and submit them to the Speaker of the Libyan Parliament as swiftly as possible, without delay or procrastination, to allow an inclusive candidacy for all." The tribes underscored the "criticality of ensuring the legislative institution and its leadership, notably the Speaker, remain unaffected until free and fair elections can be executed, serving as a pathway out of the existing crisis."
They further appealed for the formation of a "unified transitional government that would represent all Libyans, aimed at ceasing the fragmentation of the executive authority. This body would supervise the electoral process and transparently reveal to all Libyans any party hindering the elections." One of the government's top priorities, according to the tribes, should be the reconstruction of areas impacted in the Green Mountain region.
Affirming their vision for a nation governed by laws and not merely tribal, familial, or individual dominion, the statement emphasizes that Libya has "sampled all forms of governance systems since its establishment and independence, from royal to military to republican regimes. The palpable results, as currently observed, include inadequacies in roads, services, healthcare, education, and electricity." Consequently, the tribes assert the imperative for Libyans to "determine our destiny with our hands."
Facing "many and significant difficulties," the tribes acknowledge the scale of the challenges and the weight of responsibility. However, they express "unwavering certainty and confidence that they can thwart all local and international projects conspired against their nation and people."