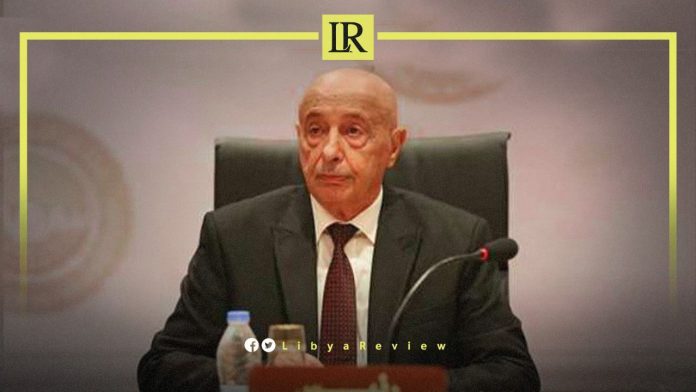 The Speaker of the Libyan Parliament, Ageela Saleh called on the United Nations to mobilize international support for the formation of a unified government. This would be tasked with conducting Presidential and Parliamentary elections.
In his letter to UN Secretary-General, Antonio Guterres, Saleh reaffirmed the Parliament's commitment to holding elections. "This commitment is reflected in the unanimous approval of the laws governing the Presidential and Parliamentary elections, which were developed by the 6+6 Joint Committee, and are based on the 13th constitutional amendment," he said.
He also highlighted the consensus reached between the Parliament and the High Council of State (HCS).
Saleh emphasised the importance of establishing a unified government, with the primary responsibility of organizing elections.
Notably, the Libyan Parliament unanimously passed laws for the Presidential and Parliamentary elections, according to Spokesman, Abdullah Blaiheg.
The legislation was prepared by the 6+6 Joint Committee, which consists of MP's and members of the HCS.
During the session in Benghazi, the House Speaker, Ageela Saleh announced that he had received the election laws from MP, Jalal Al-Shuaybi.
Saleh confirmed that these laws, in accordance with constitutional amendments, are inclusive and do not exclude any eligible candidates, whether civilian or military.
He further revealed that anyone who does not succeed in the elections, can return to their previous position.
Saleh praised the Joint Committee for achieving this milestone, and stated that it lays the foundation for consolidating authority in the country. He added that the laws are fulfilling the Libyan people's desire for elections.
Libyan Presidential candidate, Saif Al-Islam Gaddafi, the son of the late Libyan leader Muammar Gaddafi, has hailed the election laws recently endorsed by the Libyan Parliament.
"This accomplishment was achieved despite all the pressures, threats, and temptations, and it marks the commencement of a new phase in Libya's history," Saif Al-Islam added.