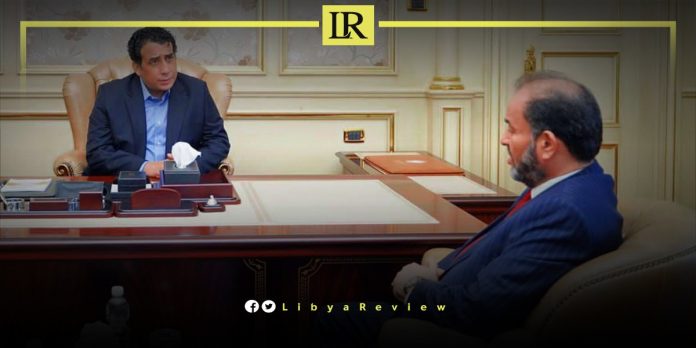 On Thursday, Mohamed Al-Mnifi, the Head of Libya's Presidential Council, held talks with Omar Al-Abidi, the Second Deputy Head of the High Council of State (HCS). They highlighted the importance of managing the repercussions of the recent floods, and fostering political advancement in Libya.
In a climate marked by tangible loss, and the unsettling ramifications of the Derna disaster in eastern Libya, both leaders not only addressed the immediate humanitarian and infrastructural needs, but also underscored the parallel necessity of fostering a resilient political process.
According to the Presidential Council, the discussions addressed the "substantial loss of life and property due to the catastrophic floods, and extended into the realms of Libya's political future."
In addition, they underscored the "paramount need to fortify the ongoing political process, envisaging a roadmap that concludes the extant transitional phases and paves the way for imminent elections. The meeting echoed a collective commitment to navigating through the nation's concurrent challenges, with an unwavering resolve to translate democratic principles from aspirations to tangible realities amidst the crisis recovery."
The dialogue symbolises not merely a reflection on crisis management, but a potent commitment to ensuring Libya's political evolution does not stagnate amidst challenges. Advocating the necessity of political stability and progress, the leaders affirmed the need to not merely navigate through immediate crises, but steadfastly sculpt a political framework that ensures the democratic transition is unwavering and resilient amidst challenges.
On Wednesday, the Spokesman for the Libyan National Army (LNA), Brigadier General Ahmed Al-Mismari, announced that the death toll from in Derna has now reached 4,201.
This grim update comes following the recovery of 26 bodies in the city over the past two days.
Last week, he stated that more than 10,000 non-commissioned officers and soldiers are participating in search and rescue operations.
During a press conference on the developments in the affected cities, Al-Mismari added that there are unidentified bodies that have been buried.