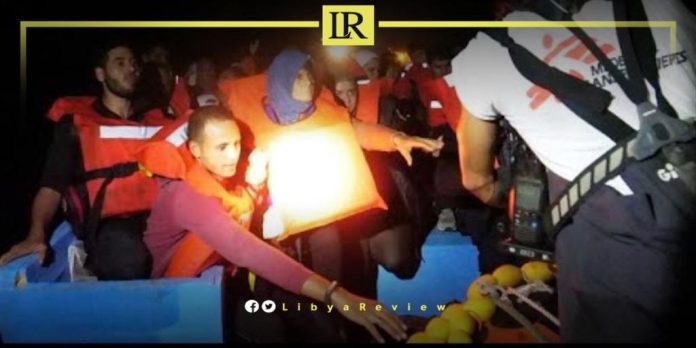 A rescue ship operating off the coast of Libya rescued 258 migrants. The first of the two rescues involved a 7-metre-long wooden boat filled with 162 migrants, including 17 women and 29 minors, many of them in a cramped area below the deck.
The boat had an engine but no navigation system, said Fulvia Conte, the rescue coordinator for the Geo Barents ship, which is run by the humanitarian charity, Doctors Without Borders.
The group of Syrians and Egyptians had spent hours at sea with the boat low in the water.
"Many of them were below deck, in the belly of the boat, a place that is even more unsafe as far as ventilation is concerned," Conte told The Associated Press, adding that rescuers have found people dead below deck during previous rescues.
The second rescue involved 96 people on a similar wooden boat, including nine children, mainly Syrians.
The Italian Maritime Authority told the Geo Barents to take the rescued people to the port of Salerno, near Naples, 400 kilometers from their current location, according to Conte.
She said the assigning of a far-off port keeps rescue ships out of the area where they are needed for long periods of time. "It means to have probably more people crossing in a very unsafe way, or even dying or disappearing or being intercepted and then brought back to Libya."
In a recent statement, the aid group denounced "the scandalous inaction of the governments that sentence to death thousands of people every year."
According to Italian Interior Ministry statistics, as of October 6th, nearly 136,000 people had arrived in Italy this year, compared with 72,000 in the same period in 2023.
Italian Premier Giorgia Meloni, who has vowed to take "extraordinary measures" to deal with the surging flux of migrants, is in Granada, Spain, for a summit where she has been discussing migration with other European leaders. She is pushing for more help from other countries as Italy struggles to cope with the arrivals.
As the summit was underway over 900 migrants from sub-Saharan Africa landed on different islands in the Canary Islands archipelago over a 24-hour period.
The European Union (EU) has been under scrutiny for its role, and responses to the migration crisis. Critics argue that more needs to be done to safeguard migrants' rights and lives, suggesting the establishment of safer and more lawful pathways to asylum. As well as improving the conditions and prospects for migrants returned to transit countries like Libya.
As winter approaches, conditions at sea will become even more treacherous, yet the allure of safety, stability, and a chance for a new life will undeniably continue to drive desperate individuals to undertake these risky journeys.
The recent events ignited renewed calls for a comprehensive and humanitarian approach to the migration crisis, urging global leaders to foster collaborations that prioritise the preservation of life and dignity for all individuals, regardless of their migratory status.
Discussions between leaders in Europe, North Africa, and international organisations are imperative to formulate strategies that address the root causes of forced migration and to ensure the safety and rights of those who feel compelled to embark on such hazardous journeys.