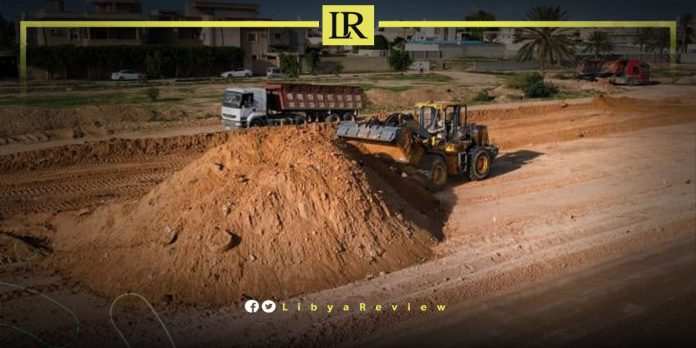 In a monumental step towards bolstering urban development and facilitating smoother transit across the city, the works on the Third Ring Road Project in Tripoli have officially commenced.
Positioned within the jurisdiction of the Abu Salim municipality, this project promises to curate a vital conduit. This will not only enhance the connectivity within the city but also pave the way for a plethora of socio-economic opportunities.
The Hakomitna platform unveiled that the Government of National Unity (GNU) has forged a significant contract. This vital agreement was reached with an alliance of Egyptian companies, symbolizing a robust partnership, destined to resume work on the crucial road.
This project has been curated as a component of the 'Return of Life' initiatives, having resumed after being in a static state for several years.
In another context, the International Organisation for Migration (IOM) issued an urgent plea to amplify donor funding, aiming to escalate early recovery efforts in the most affected areas. A staggering $22 million is the anticipated financial requirement to expedite these critical initiatives, with only approximately 30% of the sum currently secured.
Amy Pope, the Director General of IOM, underscored the magnitude of humanitarian needs in the regions shattered by the tempest. "The realms ravaged by the storm present a panorama of massive humanitarian requirements," Pope articulated.
Over 80 IOM personnel, situated in Northeast Libya, are engaging meticulously with both national and international allies to navigate the crisis response. Moreover, the United Nations (UN) Rapid Response Mechanism has been activated, coordinating a response to ensure that relief items reach impacted communities with alacrity.
IOM, aligning with other UN affiliates, urgently beckons Libyan national and local authorities, alongside Libya's international collaborators, to forge a consolidated national mechanism. This will steer recovery and reconstruction efforts with a firm commitment to transparency and accountability, founded on a rigorous and impartial appraisal of circumstances and needs onsite.
Storm Daniel wreaked havoc on September 10th, spawning catastrophic flooding and resulting in a chilling 4,333 reported deaths and approximately 8,540 individuals missing. Within these figures, approximately 930 migrant workers, once residents of the heavily impacted areas of Derna are counted among the dead and missing. The expectation of an escalation in the death toll looms ominously.
The IOM's latest Displacement Tracking Matrix report indicates a cautious return home for some of the approximately 42,045 individuals displaced by the floods. Yet, with many having sought sanctuary in schools and the impending advent of the school year, expedient solutions are imperative to reopen schools and address the current situation.