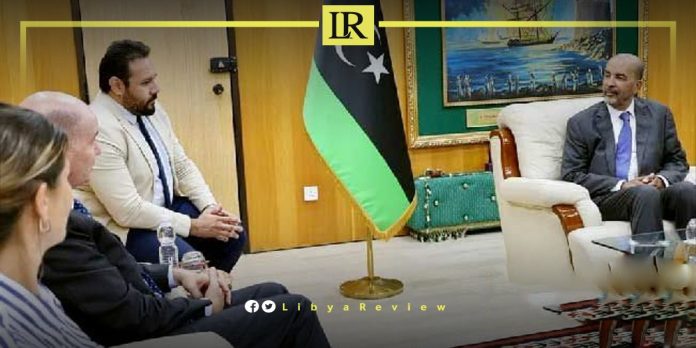 On Sunday, Swiss Ambassador to Libya, Josef Renggli affirmed his solid commitment to bolstering Libya's stability and reconstruction, amidst a phase mottled by regional conflicts and intrinsic challenges.
During his meeting with Deputy Head of Libya's Presidential Council, Moussa Al-Koni, the Ambassador underscored a strategic alliance that seeks not only to stabilise Libya's socio-political landscape, but also to mitigate the ripple effects of regional unrest and ongoing reconstruction issues.
On his part, Al-Koni underscored a "collective aspiration for stability through a development-driven democracy, steering clear of a democracy marred by conflicts and warfare." The discussions not only highlighted an appreciative note for Switzerland's role in championing human rights, but also served as a conduit for exploring synergies between the two nations in paving a path towards stable governance in Libya.
Given the volatility of the regional scenario, particularly spotlighting nations like Niger, the meeting also navigated through strategies to prevent peripheral nations from being ensnared into armed conflicts, given the consequent ramifications it would bear on Libya. The nation, currently grappling with internal divisions, perceives an amplified threat from criminal gangs, especially in domains of smuggling and human trafficking, amid its violated borders.
On Sunday, the Deputy Head of Libya's Presidential Council, Abdullah Al-Lafi underscored the need for a regulatory entity, dedicated to stringently overseeing the rebuilding of Derna and other ravaged Libyan cities, to safeguard the process from potential political clashes and manipulations.
These remarks came during Al-Lafi's meeting with the German Ambassador to Libya, Michael Ohnmacht.
According to statements, the meeting delved into the latest developments in the political process in Libya. It also addressed all possible means to put an end to the transitional phases, achieving consensus among the parties engaged in the political process, and paving the way towards free and transparent elections.
In addition, the situation in the city of Derna, along with other eastern Libyan cities was reviewed. The importance of marshalling international efforts in assisting was emphasised.
On 10 September, a devastating storm swept through several eastern regions of Libya, notably the cities of Derna, Benghazi, Al-Bayda, Al-Marj, and Sousse. This resulted in significant destruction and led to the loss of thousands of lives, injuries, and missing individuals.