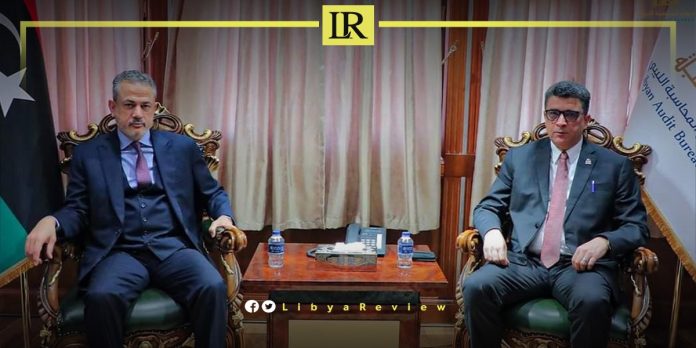 The Head of the Libyan Audit Bureau, Khaled Shakshak convened a meeting with the Head of the National Oil Corporation (NOC), Farhat Bengdara on Thursday. Together with senior management, they explored the NOC's performance, and its exceptional budget management to maintain production stability.
The discussions traversed challenges in supplying and distributing fuel, amidst escalating smuggling operations and rising production costs. As well as carbon emissions from gas production, and the possibility of minimizing them and utilizing them for electricity generation, aiming to reduce energy wastage and its associated costs.
Attention was also drawn to the NOC's plan to boost production, and its determination to venture into investments with strategic partners, including the Libyan Investment Authority (LIA).
Shakshak appreciated the NOC's efforts in preserving oil stability, emphasizing the urgency of installing tracking systems to curb smuggling, and focusing on production development. He underscored the importance of addressing the Bureau's previously communicated observations.
In turn, Bengdara affirmed his dedication to overseeing the relevant departments within the corporation and its subsidiaries, adhering to the observations and recommendations of the Audit Bureau, and valuing its role in enhancing the internal operational efficiency of the corporation.
Notably, a report from Africa Intelligence claimed that Bengdara is seeking to establish a financial oversight committee, to oversee the NOC's operations. The move is seen as an effort to strengthen his control over the significant oil revenues generated in Libya.
Bengdara is reportedly urging the formation of a supervisory committee, inclusive of delegates from the Libyan Central Bank (CBL), the Audit Bureau, and the Administrative Control Authority (ACA).
He firmly believes that such supervision will be beneficial to the NOC, facilitating the auditing of expenditures and transactions, and consequently promoting financial transparency and accountability.
However, the proposition is facing resistance. Critics argue that the prerogative to establish such an oversight committee should rest with the Government of National Unity (GNU), and not by the NOC.
The French-based news site interprets Bengdara's call for a financial committee as a strategic manoeuvre to fortify his influence and control over oil revenues
Forming a supervisory body, without a political agreement could exacerbate tensions among rival power factions in Libya. This could potentially undermine efforts aimed at reunifying the nation, which has endured years of civil war and disorder following the overthrow of Muammar Gaddafi.
The website further added that the strategy underscores the fact that Libya's natural resources remain a political battleground.