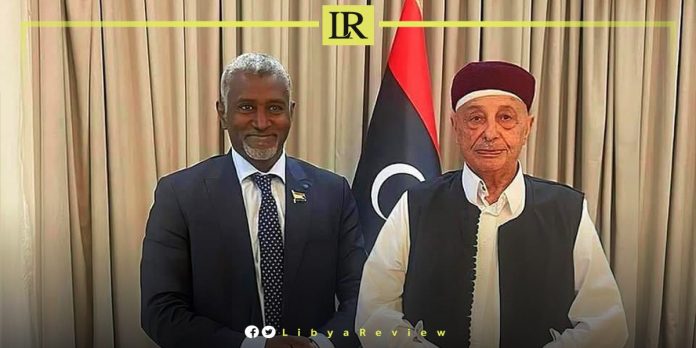 The Speaker of the Libyan Parliament, Ageela Saleh affirmed the pivotal role that the African Union should play in resolving the ongoing crisis.
This statement came during a meeting with Libya's Minister of African Affairs, Issa Abdul-Majeed on Sunday, at the Parliament's headquarters.
The Libyan Parliament-designated government stated that the discussion between Saleh and Abdul Majeed revolved around ways to resolve the crisis, and the role of African countries and the AU in supporting and establishing stability.
The meeting particularly focused on the national reconciliation program, overseen by the African Union. Saleh underscored the necessity for the African Union to play a constructive role in resolving the Libyan crisis.
The government's statement mentioned that Abdul Majeed presented an outline of his program, developed in line with Prime Minister, Osama Hammad.
According to the statement, the program calls for enhancing international engagement, and strengthening mutual relations with friendly nations.
Last month, the Head of the African Union Commission, Moussa Faki Mahamat made an urgent appeal to the international community to provide support to Libya, which is reeling from devastating floods that have impacted several cities in the eastern part of the country.
Sharing his sentiments on X, Faki expressed, "We stand in full solidarity with the families of the victims, and those missing due to these catastrophic floods. We pray for the departed souls to find eternal peace and for those affected to experience healing and solace."
He further emphasised, "I commend the Libyan authorities for their efforts in tackling this natural disaster and implore the global community to rally behind them in support."
On 10 September, a devastating storm swept through several eastern regions of Libya, notably the cities of Derna, Benghazi, Al-Bayda, Al-Marj, and Sousse. This resulted in significant destruction, and led to the loss of thousands of lives, injuries, and missing individuals.