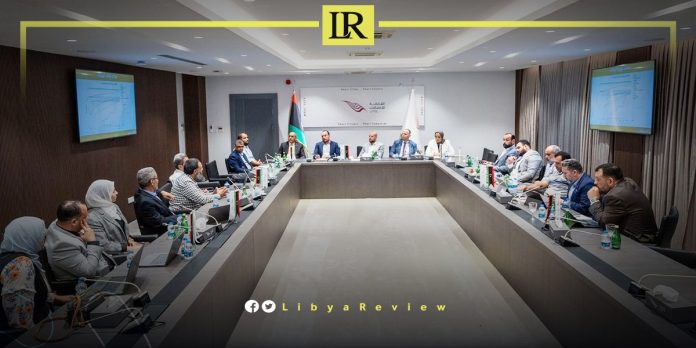 On Monday, the High Committee for Electronic Government, chaired by the Minister of State for Communication and Political Affairs of the Government of National Unity (GNU), Walid Al-Lafi, discussed Libya's digital transformation, and support for projects in the Ministries of Interior and Social Affairs.
The "Hakomitna" platform highlighted that both ministries showcased the current electronic services they offer, future implementation plans, and challenges they face. These challenges include issues with digital infrastructure, lack of specialised staff, and technical problems.
The meeting also delved into the ministries' needs to advance digital transformation, prioritising tasks, and formulating an execution vision to enable citizens to easily access government services.
Attendees included committee members like the General Authority for Communications and Information's Head, Abdel-Baset Al-Baour, Telecommunications Holding Company Chairman Mohamed Bin Ayad, High Committee for Electronic Government's secretary, Rafiq Khalifa, along with directors from the Telecommunications Holding Company,and representatives from the Ministries of Interior and Social Affairs.
In April, the French Embassy in Libya announced the launch of the Raqameyon project. This one-year project aims to support Libya's digital transformation by disseminating digital skills, and supporting local digital capacity-development programs.
In a statement, the French Embassy stated that the new project will contribute to the diversification of the Libyan job market, with a focus on the digital economy.
The Embassy is set to implement the €700,000 euro project in partnership with the General Information Authority (GIA), the Ministry of Education, several Chambers of Commerce, local civil society organisations, and several public schools from different Libyan regions. The main activities of the project will include:
Building the capacity of selected CSO's and private training companies to provide inclusive basic digital boot camps for public and private sector employees.
Supporting the Ministry of Education to implement digital training in Libyan schools. This will include the design and implementation of a customised digital curriculum.
Providing digital skills training for tech start-ups, entrepreneurs, and small and medium-sized enterprises (SME's) after assessing their needs.
Training of existing digital professionals on in-demand and advanced tech topics such as AI, data science, and Power BI.
The General Information Authority works to support digital transformation in Libya at several levels, including developing a comprehensive national strategy for digital transformation in the country. This strategy will only be feasible to implement on the ground if the digital culture is spread in the educational and work environments, the capabilities of public and private sector employees are raised, and the level of training provided to young people interested in technology is improved in Libya.
"The Raqameyon project will contribute to enhancing our future vision and is considered a positive step in achieving our goals," said Al-Baour.