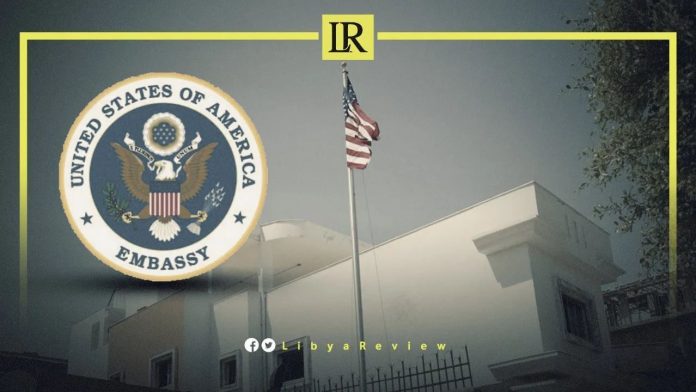 The US Embassy in Libya warned American citizens against approaching demonstrations, that are likely to break out in the country as a result of the Israeli aggression against Gaza, Palestine.
The Embassy strongly urged nationals to increase vigilance, and practice situational awareness when in the vicinity of protests and public demonstrations. It also urged them to contact the Embassy via email or phone calls for assistance.
"US citizens currently in Libya are urged to consult the Department of State's travel advisory for Libya," it said.
"While no specific, credible threats against U.S. citizens in Libya have been identified at this time, travelers to and within Libya are strongly advised to enroll in the Smart Traveler Enrollment Program (STEP). This program enables them to receive critical alerts and simplifies the process of locating them in case of an emergency."
The Embassy emphasised the importance of staying informed, by closely following local media for updates on ongoing events.
"To ensure personal safety, the embassy strongly advised maintaining a low profile, particularly in areas frequently visited by tourists and Westerners," it said.
As part of safety recommendations, it suggested that individuals review and update their personal security plans.
Notably, the Head of Libya's Presidential Council, Mohamed Al-Mnifi vehemently condemned the brutal Israeli attack on Al-Mamdani Hospital in the Gaza Strip, labelling it a "war crime and genocide." The attack resulted in a reported 500 fatalities.
He reiterated his rejection of the "new displacement of the Palestinian people through starvation, siege, and direct targeting of civilians and public facilities."
Simultaneously, he urged the international community to "assume its responsibilities towards civilians, and halt the unjustifiable bloodshed."
Presidential Council member, Musa Al-Koni viewed the Israeli bombing as "surpassing all preceding war crimes and crimes against humanity."
Furthermore, the Prime Minister of the Government of National Unity (GNU), Abdel-Hamid Dbaiba also condemned the Israeli bombardment, describing the incident as "a savage crime."
Dbaiba deplored what he described as "a crime exceeding all bounds," calling on all countries to "halt such crimes and open corridors for delivering humanitarian aid to the besieged sector."
Protests erupted in Misrata and Tripoli on Tuesday evening, denouncing Israel, with chants against the Israeli occupation and in support of Palestinian resistance echoing through the streets.