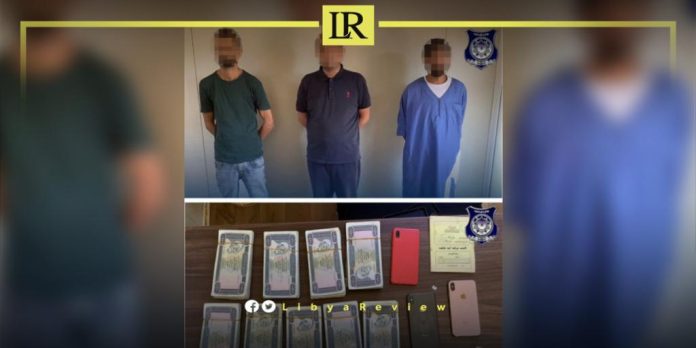 The Ministry of Interior of Libya's Government of National Unity (GNU) said it has arrested two Libyans and one Tunisian national, involved in a currency smuggling operation spanning both Libya and Tunisia.
In a security operation conducted by the General Security Agency in Jebel Nafusa, a Tunisian national was arrested during an identity check.
The police found a substantial amount of currency in denominations of old ten Libyan dinars. These had been suspended by the Central Bank, and were no longer in circulation in the market.
During subsequent interrogations, the detained individual confessed to his involvement in illicit currency trading, and its smuggling into Tunisia. The smuggling operation was found to be carried out in collaboration with two Libyan nationals.
The two Libyan accomplices were subsequently arrested, and they were also found to possess a significant amount of the same currency.
Legal procedures have been initiated against all individuals involved, with the case being referred to the Attorney's General Office.
In June, Tunisian customs authorities at the Ras Jedir border crossing successfully managed to thwart an attempt to smuggle foreign currency, valued at 2.4 million Tunisian dinars.
In a statement, the General Administration of Customs said that "this comes as part of efforts to stop the smuggling of money on the southeastern border with Libya."
It added that a customs guard patrol was able to thwart the attempt to smuggle €525,000 Euros and $213,000 US Dollars. These were hidden in a car with a foreign license plate, at the Chichma region in Medenine. The total value of the seized money was estimated at 2.4 million dinars.
A spokesman for the General Administration of Customs, Brigadier Haitham Znad, confirmed that the seized money was secured by the Central Bank of Tunisia. He added that a report of seizure has been ratified, and the public prosecutor has been informed to initiate the necessary legal proceedings.