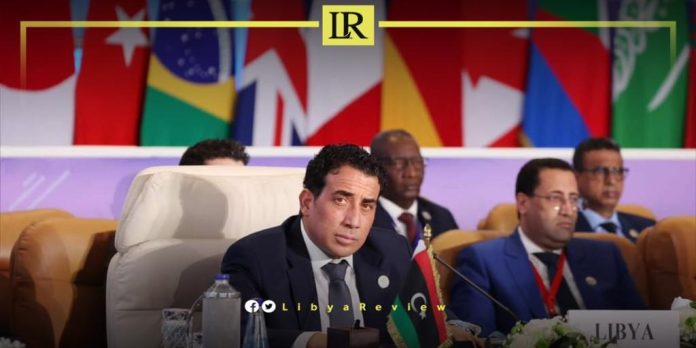 On Saturday, Mohammed Al-Mnifi, the Head of the Presidential Council, called for the Israeli forces to halt their ground invasion into Gaza and end the threat of forcibly moving its inhabitants to the Sinai Peninsula.
During his speech at the summit, held in the New Administrative Capital of Cairo, Al-Mnifi voiced strong objections against the persistent raids on sacred sites. This includes the Al-Aqsa Mosque in East Jerusalem and other significant Islamic and Christian landmarks within the Palestinian territories.
He also called for an immediate cessation of the escalating tensions in Gaza. He accentuated that Israel's tactics overstep internationally recognised standards and laws.
This gathering, primarily focusing on the Palestinian issue and subsequent peace initiatives, becomes ever more crucial as the Israeli-Gaza conflict reaches its fifteenth consecutive day.
Al-Mnifi's concern also gravitated toward the United Nations (UN) Security Council's perceived inertia. He highlighted their slow response in intervening to mitigate the ongoing strife in Gaza, emphasising the UN's core mission of ensuring global peace and security impartially and diligently.
Reiterating the overarching narrative of Israel's defiance, he pointed out that Israel's recent actions, coupled with its historical conduct over the past 75 years, starkly contravene its international obligations.
In a testament to the global outcry, major Libyan cities observed significant protests last Friday. Citizens rallied in a show of solidarity for Palestine, denouncing the persistent Israeli offensives in Gaza.
Notably, Libya firmly denounced the relentless aggressions directed at the Palestinian people in the occupied regions, especially pinpointing the escalated aerial offenses on the Gaza Strip since October 7th. These attacks have tragically led to significant civilian casualties.
Earlier this month, the Libyan House of Representatives (HoR) condemned what they referred to as the Israeli aggression toward Gaza, as well as the Arab and international silence regarding support for the Palestinian cause.
The HoR expressed its disdain in a statement, targeting what it perceives as dual standards when judging the Palestinian people's right to defend themselves. Asserting the inalienable right of Palestinians "to shield themselves against the flagrant and recurrent assaults by the Zionist entity." The Parliament denounced labeling this right as aggression, especially juxtaposed against the overlooking of the brutal killing of Palestinian children, women, and elderly by the "Zionist occupation" machinery.
Emphasising that the Palestinian issue has always been and remains a pivotal matter for Arabs and Muslims, the HoR reasserted its support for the struggle of the Palestinian people. They claim this is the just cause for liberating their land and regaining the independence of their homeland remains at the forefront of the council's advocacies.