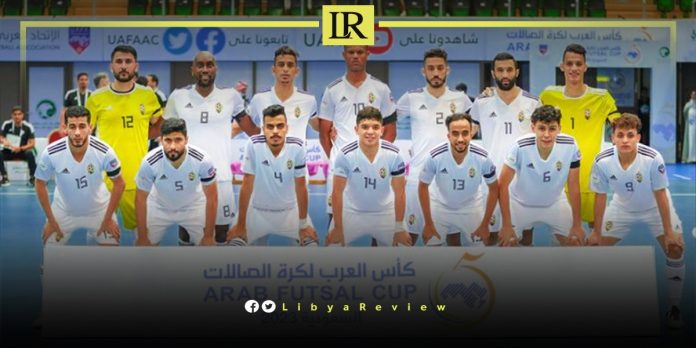 The Libyan national futsal team has embarked on a preparation camp in Misrata, from 24-31 October, ahead of the African qualifiers for the finals set to be held in Mozambique. This initiative is part of the Libyan Football Federation's efforts to ensure the team is well-prepared for the upcoming competition. The federation has sent out letters to the heads of the regional football federations, to call upon the selected players to join the national team's camp.
Selected Players for the Camp:
The list of selected players for this training camp includes notable names from various clubs across Libya and abroad:
From Al-Ittihad Club: Ziad Ahmed Aziz, Ayad Fathi Al-Winsi, Adham Mustafa Al-Numi, Sohaib Mohammed Al-Ghoul, Ali Misbah Al-Shoushan, and Ahmed Nouri Al-Zawi.
From the Olympic Club: Feras Misbah, Ahmed Saleh Al-Yamani, Mohammed Sulaiman Zriq, and Fadil Zaki.
From Al-Sweihli Club: Abdel Halim Al-Saghir, Suleiman Abdel Salam, Ahmed Mohammed Al-Agnaf, and Jihad Mohammed Awin.
From Al-Alamein Saudi: Mohammed Khamis and Ibrahim Abdel Hamid.
From Moroccan club Nahda Al-Barakan: Ahmed Abdel Aziz.
From Al-Madinah Club: Marwan Al-Tayeb.
From Al-Wahda Club: Omar Fathi Al-Maghribi.
The Libyan futsal team made their first official appearance in the African Futsal Championship in Egypt in 2000, winning several titles thereafter including the African Futsal Championship in 2008, the Arab Futsal Championship in 2007, 2008, and the North African Futsal Cup in 2005, 2009, and 2010​1​. Their recent performances include qualifying for the semifinal round of the African Futsal Championship held in Morocco, despite a rough start with a loss to the host nation in their first game​2.
Leading up to the African qualifiers, besides the internal camp in Misrata, the Libyan national team had also participated in an external preparation camp in Egypt earlier this year.