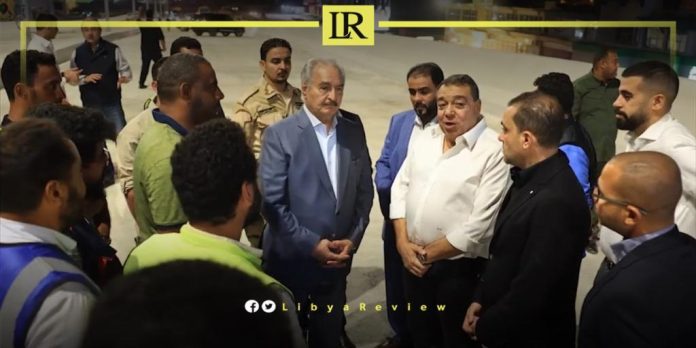 The Commander-in-Chief of the Libyan National Army (LNA), Field Marshal Khalifa Haftar conducted a tour of bridge construction sites in Benghazi, early Tuesday.
Accompanying him were Prime Minister-designate, Osama Hamad, and Reconstruction and Stability Committee Head, Hatem Al-Areibi. The tour aimed to assess the ongoing construction, and final preparations extending to Benghazi University, to review recent maintenance works.
On Monday, Hamad, alongside Al-Areibi and other officials, inspected Ajdabiya city, focusing on security, services, and the progress of various service projects.
They inaugurated several projects, prominent among which were road maintenance, opening routes, school and infrastructure upkeep, and water supply to certain areas. This comes amidst a backdrop of political division in Libya, with Derna city bearing the brunt.
Haftar hosted a pivotal meeting with the UK's State Minister for the Armed Forces, James Heappey in Benghazi.
The meeting was also attended by the Chargé d'affaires of the British Embassy in Libya, Catherine Wilde, and her accompanying delegation.
In a statement, the LNA reported that the discussions were focused on enhancing Libyan-British cooperation, in the field of counterterrorism. The talks also touched upon the latest political developments and set the stage for the appropriate conditions to conduct the upcoming Presidential and Parliamentary elections in the nation.
Notably, the Prime Minister of Libya's Government of National Unity (GNU), Abdel-Hamid Dbaiba also held a meeting with Heappey in Tripoli.
The meeting, which was also attended by the Chief of General Staff, First Lieutenant General Mohammed Al-Haddad, and the State Minister for Prime Minister and Cabinet Affairs, Adel Juma, was dedicated to overseeing Libyan-British cooperation in training and counterterrorism.
Furthermore, an agreement was reached through a joint committee, to coordinate the aspects of technical cooperation between the two countries.