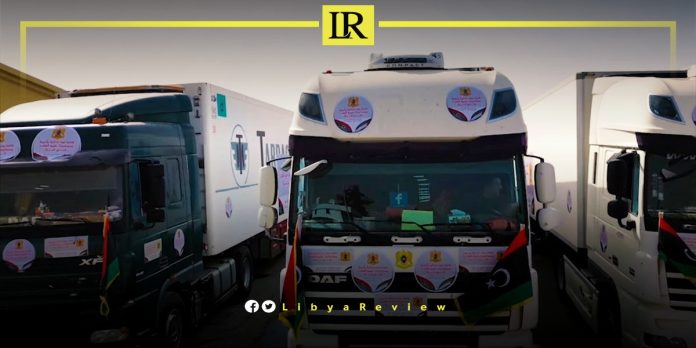 In a show of solidarity, the Libyan National Army (LNA) announced that they have sent the first batch of medical and humanitarian aid to support the residents of Gaza.
Volunteers were filmed preparing shipments, with trucks prominently displaying both Libyan and Palestinian flags. The aid comes at a crucial time, as tensions continue to rise in the Gaza Strip. Now in its twentieth day, the Israeli offensive has resulted in a mounting death toll.
As of Thursday, the Palestinian Ministry of Interior confirmed a total of 7,028 fatalities, with 481 of those casualties occurring in just the past day.
Libya voiced its disapproval over the international double standards concerning the Israeli aggression on Gaza, during a session at the United Nations Security Council held on a Tuesday evening. The rejection was articulated by Taher Al-Baour, the Director of Foreign Affairs and International Cooperation at the Council of Ministers, who is also charged with managing the affairs of the Ministry of Foreign Affairs.
Al-Baour criticized the "selective stance and double standards of the international community in dealing with Israeli aggression towards Gaza." This comes at a time when the global political scene is under scrutiny for its reaction to conflicts.
The Libyan statement underscored the "inhumane aggression carried out by Israeli forces on Gaza, lamenting the bartering of Palestinians' right to essential supplies like food, water, electricity, and fuel. The grim events in Gaza were depicted as a natural outcome of the persistent discriminatory policies practised by Israeli occupation forces against Palestinians for over seven decades."
Libya has been in chaos since a NATO-backed uprising toppled longtime leader Muammar Gaddafi in 2011. The county has for years been split between rival administrations, each backed by rogue militias and foreign governments.