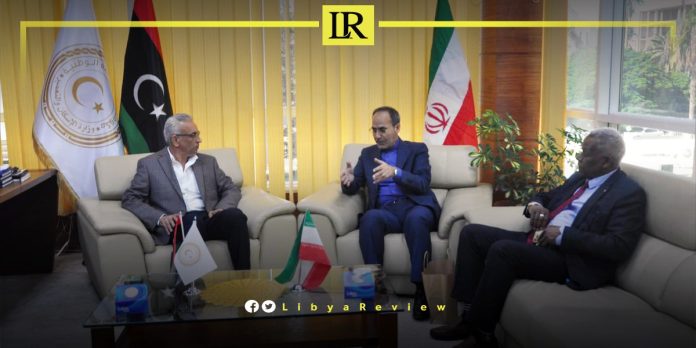 In a move to enhance bilateral relations, Libya's Minister of Housing, Abu Bakr Al-Ghawi held talks on Sunday with Ain Allah Souri, the Chargé d'Affaires of the Iranian Embassy in Libya.
The meeting's agenda was keenly focused on the integration of Iranian building materials into the Libyan marketplace. Furthermore, Iranian firms were invited to contribute to Libya's reconstruction efforts, particularly under the "Return to Life" initiative.
Reiterating the commitment of Libya's Government of National Unity (GNU), Al-Ghawi emphasised the importance of reigniting the joint Libyan-Iranian committee's efforts.
This partnership aims at advancing health and technical sectors, boosting exports, fostering industrial collaboration, and endorsing official exchanges between the two nations.
This renewed alliance underscores the mutual aspirations for regional progress, and shared prosperity.
The Iranian Embassy resumed its diplomatic presence in July, and the first Iranian cargo ship arrived at Misrata, after a suspension of more than ten years, according to the Iranian ISNA agency.
Souri, who headed the visiting Iranian delegation to Tripoli, indicated that the security situation in Libya had improved significantly, and living conditions were normal, expressing hope for the development of bilateral relations between Tehran and Tripoli.
Tehran announced earlier this year its intention to reopen its embassy in Libya and later sent a diplomatic delegation to Tripoli to reopen the embassy.
On 12 July, the Free Zone Administration in Misrata announced the resumption of the work of the Iranian shipping line "IRISL" in Misrata port, through the shipping agent "Germa" Shipping Agency.
In August, the Libyan Ambassador to the Islamic Republic of Iran, Ali Fadil presented his credentials to President Ibrahim Raisi, and the two sides discussed bilateral cooperation.