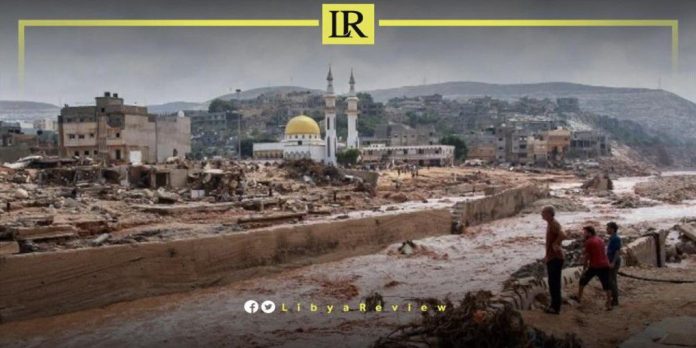 The Libyan Parliament-designated government, headed by Prime Minister Osama Hammad, is gearing up for an international conference, focused on rebuilding the flood-affected city of Derna, and surrounding regions. This conference is scheduled for 1-2 November.
On Sunday Hammad led an extensive planning session with the conference's preparatory committee. The meeting, held at the Cabinet Office, focused on ensuring seamless logistics for the attendees, and fine-tuning the event's agenda.
Among the attendees were Foreign Minister Abdel-Hadi Al-Hwaij, Deputy Minister of the Interior Faraj Aqaim, Chief of Internal Security General Osama Darsi, Head of Tariq bin Ziad Services Agency Jabril Badri, and Saqr Al-Jibani, Head of the conference's preparatory committee.
According to an official release, Hammad received comprehensive briefings on the groundwork laid out by the preparatory committees. He highlighted the need for meticulous planning to ensure the event's success. The primary goal is to develop Derna, and other affected cities after the deadly floods.
Furthermore, in a detailed update from Aqaim, it was revealed that the meeting delved into various aspects of the conference, including security measures, logistical preparations, and technical requirements, ensuring smooth reception and accommodation for all attendees.
Last week, the United Nations Office for the Coordination of Humanitarian Affairs (UNOCHA) reported a dire situation in the eastern regions of Libya: 1,038 buildings were fully demolished, and an urgent need to clear 8.7 million tons of debris, while underlining the displacement of 42,045 people from areas that bore the brunt of the floods.
Hammad's strategic and multi-pronged reconstruction blueprint serves as a crucial step towards delivering palpable solutions and relief to the afflicted areas and their residents. His engaging discussions with stakeholders and commitment to developing a viable, effective plan of action signals a pivot towards a structured path of not only physical rebuilding but also revitalizing communities and ensuring sustained development.
On 10 September, a devastating storm swept through several eastern regions of Libya, notably the cities of Derna, Benghazi, Al-Bayda, Al-Marj, and Sousse, last month. This resulted in significant destruction and led to the loss of thousands of lives, injuries, and missing individuals.