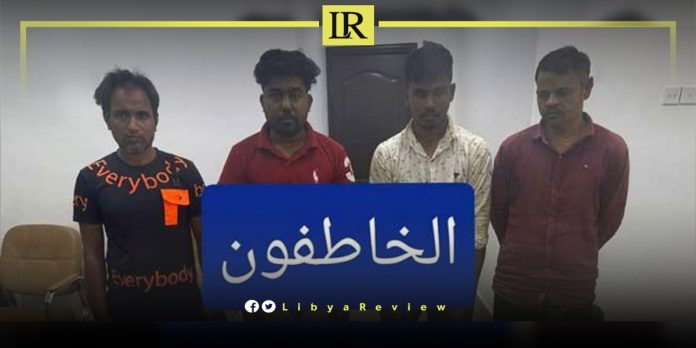 Police in Benghazi, Libya, have successfully dismantled a criminal gang, involved in the abduction of foreign labourers from Bangladesh.
The operation unfolded after investigators, at the Sidi Khalifa police precinct, received information about the detention of Bangladeshi workers, in a secret hideout.
The criminals demanded a ransom from the workers' families, in exchange for their release.
According to a statement from the Benghazi Security Directorate, law enforcement officers swiftly moved to raid the hideout, leading to the apprehension of four gang members.
During the operation, over 40 Bangladeshi labourers were freed from their captors.
The four suspects confessed to luring the foreign workers, before holding them captive and demanding ransoms for their freedom. The perpetrators revealed the existence of a fifth accomplice.
The criminals have been handed over to the relevant authorities, and an ongoing investigation seeks to locate the remaining member.
Last month, the Joint Security Room in Benghazi announced the successful freeing of a group of migrant workers, who were kidnapped by a Bangladeshi criminal gang.
The Room consists of members of the Libyan Interior Ministry of the Parliament-designated government, and the Libyan National Army (LNA). It did not disclose the location and timing of the raid on the gang. It released a video showing security members carrying out the operation in Benghazi.
According to the Room, the operation was initiated following a complaint filed to the General Administration of Security Operations by their employer.
"Upon receiving instructions from the General Command of the LNA to conduct investigations and gather information, a dedicated team was immediately assigned to the case. After pinpointing their whereabouts, a security force from the General Administration of Security Operations was deployed to raid the location," the statement said.
"The abducted workers were found in captivity, bound and blindfolded. Following their freeing, they were taken to the headquarters of the administration, and investigations into the incident are currently ongoing," the statement added.