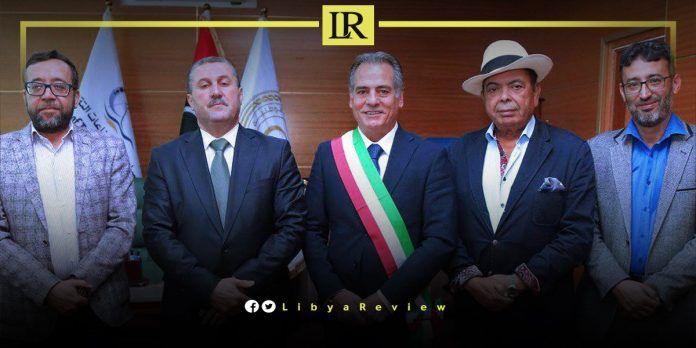 The Libyan Tourism Minister, Nassreldin Al-Fazzani held a meeting with the Director and Owner of a group of Italian companies specializing in construction, contracting, tourism, and energy, Tommaso Nicola Grasso.
The meeting focused on ways to enhance collaboration between business figures in Libya and Italy, particularly in the field of travel and tourism.
The discussions also explored the possibility of implementing cultural and touristic exchange programs between students, in coordination between the public and private sectors.
The participants in the working session also delved into tourism investment opportunities, and the establishment of tourist projects through partnerships.
In another context, Italy's Rosetti Marino has secured an engineering, procurement, and construction (EPC) contract, said to be worth more than €300 million euros, with compatriot Saipem, for offshore work in Libya, according to Offshore-Energy news website.
Under the contract, Rosetti Marino is in charge of the construction of a gas recovery module (GRM) of approximately 5,000 tonnes, which will be installed on the DP4 offshore structure in the Mediterranean, off of Libya.
The scope of work includes engineering, material procurement, construction and load-out works for the delivery of the GRM. As well as activities to modify the DP4 platform, so that it can receive gas from the GRM and the refurbishment of the platform's accommodation module.
The project's end user is Mellitah Oil & Gas, a consortium consisting of the National Oil Corporation of Libya (NOC) and Eni North Africa. The activities will start immediately, and are expected to be completed in early 2026.
Notably, Saipem announced that it had secured a coveted $1 billion dollar contract, signalling its expansive role in modernizing Libya's Bouri natural gas field, a significant offshore reservoir.
The pivotal deal was commissioned by Mellitah Oil & Gas, an entity spearheaded by Eni, overseeing the intricacies of the Bouri Gas Utilisation Project (BGUP). The assignment beckons Saipem to rejuvenate and reinforce the platforms, and other integral facilities situated at the gas field.
Beyond refurbishment, the contract outlines Saipem's responsibility to lay down an extensive 28-kilometer pipeline system, seamlessly connecting the DP3, DP4, and Sabratha infrastructures within the field. The heavy-lifting segments of this venture will be orchestrated by the technological marvel, the Saipem 7000 semi-submersible crane vessel.