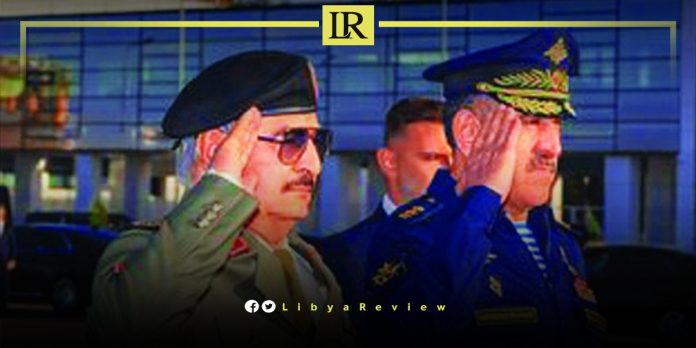 A high-ranking source from the Libyan National Army (LNA) has refuted any intentions to enter into an agreement with Russia, for the establishment of a military base in the east of the country.
The military source told Al-Sharq Al-Awsat that the LNA, "plays a crucial role in safeguarding the nation's sovereignty and has no need for such an arrangement."
Additionally, the source emphasised that "military cooperation agreements with Russia do not include provisions for establishing military bases."
He criticised the "misleading information" aimed at diverting attention from the presence of foreign military forces in western Libya.
He pointed out the existence of Turkish and American military personnel at the Mitiga and Al-Watiyah airbase. As well as Italian and British military forces at the Misrata airbase in western Libya.
The LNA's Commander-in-Chief, Field Marshal Khalifa Haftar recently met with General Stephen J. Townsend, the head of US Africa Command (AFRICOM), and the current US Special Envoy to Libya, Richard Norland.
Bloomberg reported that Russia is seeking to conclude a defence agreement between President Vladimir Putin and Haftar, following their September meeting in Moscow.
Sources cited by Bloomberg claimed that Haftar is looking to acquire air defence systems to protect against rival forces in Tripoli, backed by the Turkish military.
In return, the agreement may include training air force and special forces personnel, while upgrading some of the airbases that Haftar's forces currently occupy to accommodate Russian troops.
Additionally, the report mentioned the possibility of Russian warships gaining permanent docking rights at a Libyan port, most likely in Tobruk. This is situated a few hundred kilometers across the Mediterranean Sea from Greece and Italy.