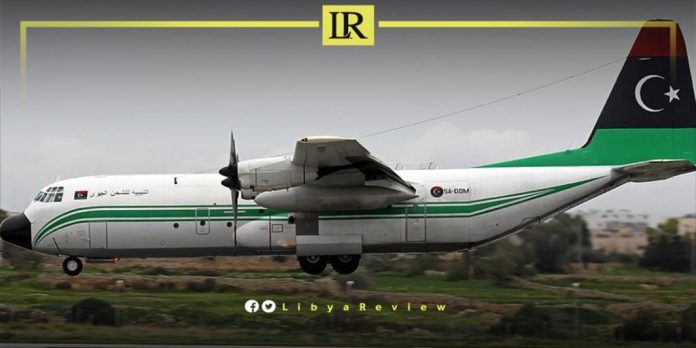 The Libyan Asset Recovery and Management Office (LARMO) announced the upcoming return of a Libyan C-130 transport aircraft from Malaysia.
LARMO noted that this achievement comes as a result of joint work with internal bodies, represented in the memorandum of cooperation signed between LARMO, and the Libyan Airforce command.
"The sanctions were lifted after successful negotiations with the US State Department," the statement added.
The breakthrough regarding the Malaysia-based plane occurred on 6 November, after rigorous negotiations.
LARMO affirmed that this achievement "marks the initial phase in the process of negotiating the return of multiple airplanes and ships to Libya, from various countries."
On Friday, the Director General of LARMO, Mohamed Mensli called for easing sanctions on Libyan assets.
Speaking at an International Bar Association event on 3 November in Paris, Mensli acknowledged the need for sanctions in some cases, but highlighted their adverse impact on the Libyan people.
"Libya's overseas frozen assets have incurred an annual loss of well over $1 billion USD, significantly impacting our capacity to address critical societal needs. This staggering figure translates into the inability to recruit essential personnel such as doctors, nurses, and teachers. It impedes our efforts to subsidise pensions, curb youth unemployment, build or maintain infrastructure, and reduce youth unemployment." he said.
Mensli appealed to stakeholders to back LARMO's strategy, focusing on recovering looted and neglected Libyan assets. This approach involves collecting and responsibly investing these assets, for the benefit of the people, with rigorous internal and external oversight.
Mensli stressed extensive local and international support for this strategy, emphasising its potential for Libya's recovery. Recent events, like the deadly flooding in Derna, underline the urgent need for action.
He emphasised the injustice faced by Libyans who can't access assets, rightfully belonging to them, despite enduring hardships.
"In the past few years alone, we lost billions of dollars —a sum that could have tangibly improved the lives of every Libyan, particularly those in the most vulnerable conditions."
In April, the Tripoli-based Government of National Unity (GNU), headed by Abdel-Hamid Dbaiba asked Washington to help it recover tens of billions of dollars in state assets, that it alleges were stolen by Libya's late leader Muammar Gaddafi and his associaties. These are believed to be hidden around the world, the Wall Street Journal reported.