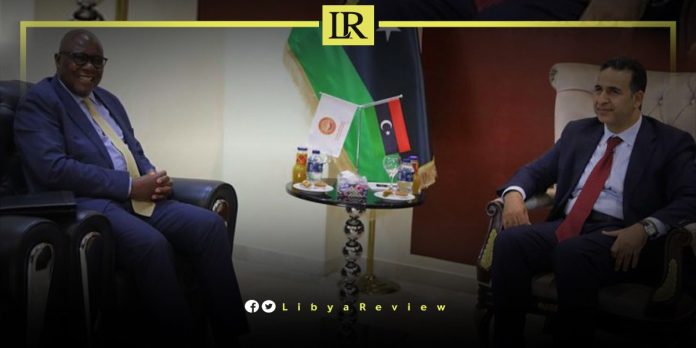 On Thursday, the First Deputy Speaker of the Libyan Parliament, Fawzi Al-Nuwairi met with Raisedon Zenenga, the Deputy Special Representative of the UN Secretary-General to Libya.
The meeting, which was also attended by MP Abdel-Salam Nasia, emphasised the "crucial advancement of security, economic, human rights, and national reconciliation pathways to create a conducive environment for forthcoming inclusive elections in Libya."
In a statement, the United Nations Support Mission in Libya (UNSMIL) highlighted that they agreed on the importance of these developmental steps.
Zenenga offered insights into UNSMIL's concerted efforts to promote these pathways, aligning with the initiatives of Abdoulaye Bathily, the UN Envoy. These efforts aim to rally Libya's main parties towards a political settlement, facilitating the implementation of electoral laws in line with UN Security Council Resolution 2702.
Further, the meeting delved into the necessary steps following the Parliament's endorsement of electoral laws, which is seen as a critical move toward establishing a stable and democratic governance framework in Libya.
Notably, Libya's High National Elections Commission (HNEC) has signaled its readiness to put electoral laws into action, adhering to international benchmarks and practices to steer the upcoming electoral processes.
In a statement, HNEC affirmed that it stands as an "embodiment of the Libyan people's aspirations toward a future imbued with stability and affluence."
HNEC also highlighted that its operations and alignments, "do not bow to any political entities, ensuring it remains a beacon of unbiased authority amidst Libya's political spectrum."
On the other hand, Libyan MP Abdel-Monem Al-Arfi has recently accused Bathily of seeking to prolong the Libyan crisis, rather than resolve it.
In a press statement, Al-Arfi said that MPs will demand Bathily's removal from UNSMIL. "We await a consensus among the Parliament members to call for his departure from Libya," he explained.
However, the United Nations Security Council recently voted to extend UNSMIL's mandate.