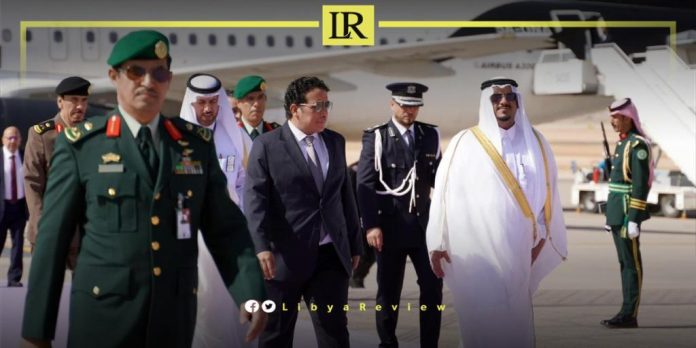 On Friday, the Head of the Libyan Presidential Council, Mohamed Al-Mnifi arrived in Riyadh to attend the extraordinary summit of the Arab League, and the exceptional Islamic summit. He will also participate in the Saudi-African summit.
Upon his arrival, Al-Mnifi was welcomed by Prince Mohammed Abdul Rahman bin Abdulaziz, the Deputy Emir of the Riyadh region.
The summits are set to address the ongoing Israeli aggression against Gaza, which has resulted in over 10,000 casualties, and left thousands injured or missing.
These meetings underscore the urgency of finding solutions, and expressing solidarity in the wake of the humanitarian crisis in Gaza.
The summits are expected to shed light on diplomatic efforts to address the crisis, with leaders exploring avenues for collective action and international cooperation.
Last month, the Governor of the Central Bank of Libya (CBL) Al-Siddiq Al-Kabir held talks with his Saudi counterpart, Ayman Al-Sayari, at the annual meetings of the IMF and World Bank.
During their meeting, the officials discussed potential areas of cooperation between their respective central banks. The meeting signals a noteworthy initiative towards fostering bilateral ties in the financial sector, amid global economic conversations.
Al-Sayari also met with Abdulrahman Mohammed Abdullah, the Governor of the Central Bank of Somalia, where they explored various topics.
The past decade has seen Libya navigating through tumultuous waters, with its economic and political systems undergoing substantial challenges. The country has been grappling with civil unrest, political instability, and conflicts, all of which have subsequently impacted its financial institutions and economic infrastructure.
In September, Saudi Arabia's Foreign Minister, Prince Faisal bin Farhan bin Abdullah, called for the complete and immediate withdrawal of all foreign forces, fighters, and mercenaries from Libya.
This came during his speech at the 78th session of the United Nations General Assembly in New York.
The Saudi Foreign Minister affirmed the importance of achieving security and stability in Libya, ensuring its sovereignty, independence, territorial integrity, and ending interference in its internal affairs, according to the Saudi Press Agency (SPA).
He underscored the Kingdom's support for a comprehensive ceasefire in Libya, highlighting the need for countries to adhere to the UN Charter and principles of international legitimacy.
Prince Faisal expressed Saudi Arabia's aspiration for a better future for humanity, based on mutual respect for the sovereignty and independence of nations, peaceful dispute resolution, as well as a commitment to refrain from using or threatening to use force.