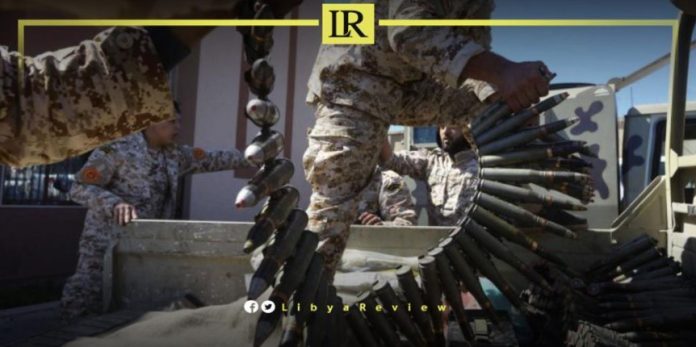 African experts reveal in a recent report that small arms and light weapons illicitly leaked from Libya have flooded Nigeria's markets, leading to their sale "becoming as commonplace as rice."
The African Defense Forum magazine, published by the US military's Africa Command (AFRICOM), highlighted the rise in road-related activities due to increased demand for these weapons. This is driven by political instability and the surge in extremist groups in the region.
The report pointed out to the complex factors contributing to the proliferation of small arms and light weapons in the coastal and West African regions, including political instability, conflicts between farmers and herders, ethnic divisions, and the emergence of armed groups.
Oluwole Ojoeli, the Coordinator of the Regional Observatory on Organised Crime at the Oluwole Institute, emphasised that the emergence of armed groups has significantly increased the demand for small arms and light weapons in the region.
Idris Mohammed, CEO of the Suluhu for Development initiative, a non-governmental humanitarian organisation, considers political instability a major driver of arms trafficking in northern Nigeria, the Lake Chad region, and Burkina Faso.
Mohammed, a native of northwest Nigeria, noted that many of the weapons in circulation today leaked from the massive arsenal once owned by the late Libyan leader Moammar Gaddafi. He recalled a period around 2012 or 2013 when sophisticated weapons could be purchased for as little as $10, comparing the ease of buying weapons to shopping for rice or corn in the local market.
Crimes related to roadways and persistent conflicts between farmers and herders are driving people to purchase weapons for self-defense, particularly when they feel their government is incapable of protecting them. Mohammed emphasised that the trade is thriving due to border loopholes, security lapses, and corruption.
Libya has been marked by political instability and violent conflict since the fall of Colonel Moammar Gaddafi's regime in 2011. In the aftermath of the Arab Spring, Libya fell into a prolonged civil war, resulting in divided authorities, economic collapse, and a humanitarian crisis.
In February, Libyan security forces announced the seizure of "advanced and dangerous weapons" that were hidden in the desert, and due to be smuggled to Egypt.
The Director of the Tobruk Security Directorate in eastern Libya, said in a press briefing that the "weapons were seized in the southeastern region, in the village of Jaghbub, after we monitored suspicious movements in the region."
He added that the weapons were confiscated, and called on citizens to "take advantage of the seven-day deadline granted by the Ministry of the Interior to hand over their weapons."