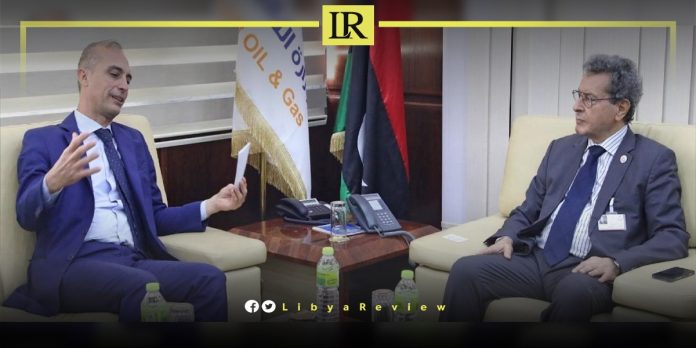 Libya's Oil and Gas Minister, Mohamed Aoun has called on the Italian Ambassador to Libya, Gianluca Alberini to "expedite the implementation of the friendship agreement signed between Libya and Italy."
During a meeting in Tripoli, both Aoun and Alberini reaffirmed the strong bilateral ties, emphasizing their collaboration in the oil and gas sectors.
Aoun detailed the agreement's provisions, which include the construction of a road from Ras Ajdir to Musaid, and the development of 200 housing units by the Italian company Eni. The focus on infrastructure and residential projects underlines the strategic partnership in enhancing Libya's development.
Alberini highlighted ongoing efforts to deepen Libyan-Italian relations, and overcome challenges in executing the oil sector agreements. He stressed that an Italian body responsible for the agreement will review the Minister's observations for effective implementation.
The discussion also touched upon plans to build the agreed-upon housing units in selected cities in eastern Libya affected by conflict. Furthermore, both parties are considering a proposal to revitalize nonfunctioning Libyan factories, through Italian partnership and investment. This includes the local production of oil-related materials and equipment.
Additionally, the Ambassador mentioned initiatives to facilitate dialogue with partners, including transportation company, Iveco, to address administrative and financial hurdles. This effort aims to accelerate the resumption of operations at the Iveco factory in Libya.
This meeting marks a significant step in reinforcing Libya-Italy cooperation, particularly in the crucial sectors of oil and housing, paving the way for further economic and infrastructural development in Libya.
Days ago, Libya's Minister of Industry, Ahmed Abu Hissa met with Alberini to discuss strengthening industrial collaboration.
He stressed the importance of exchanging information and expertise between the two countries, especially in industrial ventures.
The Ministry of Industry highlighted discussions on the return of Italian companies to invest in Libya, focusing on the Tajoura-based trucks and buses factory.
According to a statement by the Ministry of Industry, efforts are underway to overcome obstacles in partnership with Iveco.
Alberini emphasised the pivotal role of industry in Libya-Italy relations, expressing Italy's commitment to supporting Libya for peace, stability, and economic revitalization.