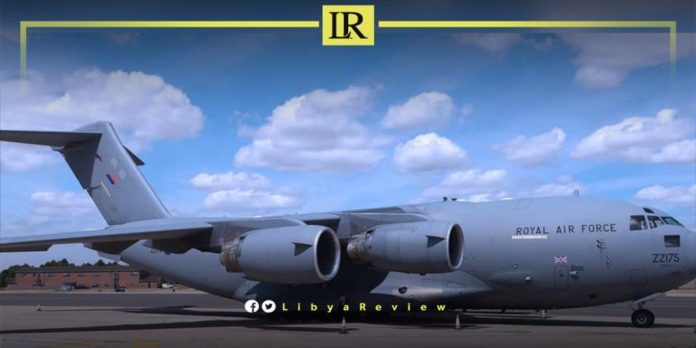 Itamil Radar has announced that it monitored the landing of a British Royal Air Force Boeing C-17A Globemaster III, with the registration number ZZ175, in Misrata, Libya.
The website added that the aircraft embarked on this unusual journey from RAF Brize Norton base in Oxfordshire, UK, taking off at 08:51 Central European Time (CET), and arriving in Misrata at around 12:10 CET.
Itamil Radar is specialized in monitoring and following up on regional air traffic. It reveals its monitoring of planes landing in Libyan territory, without providing further details.
This particular flight is part of a series of infrequent, but periodically tracked flights to Misrata, involving various aircraft models operated by the British Royal Air Force, including the C-130 Hercules, C-17As, and A400M Atlas.
The nature and purpose of these flights remain unclear, adding an element of intrigue to the UK's military involvement in the region.
The presence of the military aircraft highlights the continued international military interest in Libya, which is strategically important, due to its geopolitical position and natural resources. These covert operations reflect the complex dynamics and the ongoing international military engagements in Libya, suggesting deeper involvement in the region's affairs.
Their frequency and nature suggest a sustained, if not increasing, level of activity by the UK in Libya, pointing to strategic interests or commitments that have yet to be fully disclosed.
In April, the global air traffic website, Flightradar24 tracked a Turkish military Lockheed C-130 Hercules cargo aircraft, arriving at the Al-Watiya airbase from Ankara.
The plane was believed to be transporting military supplies, despite the fact that the UN-brokered ceasefire agreement stipulates that all military cooperation with foreign nations must be halted.
In May, Turkish Defense Minister, Hulusi Akar stated that the Turkish soldiers and Syrian mercenaries in Libya would remain to preserve Ankara's interests.
The UN estimates there are over 20,000 foreign fighters and mercenaries in Libya, helping both sides of the conflict.