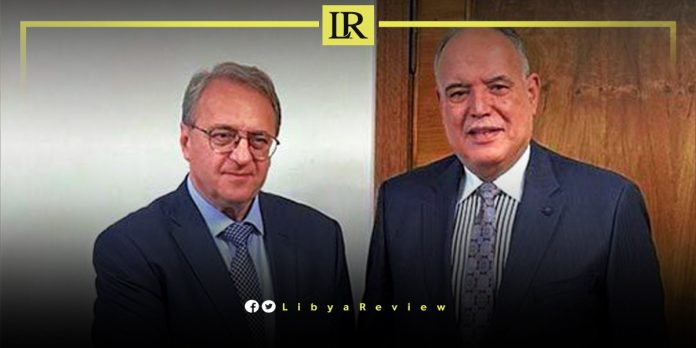 Libyan National Security Advisor, Ibrahim Bushnaf, accompanied by a high-level delegation, recently concluded an official visit to Russia. This came in response to an invitation from Nikolai Patrushev, the Secretary of the Russian Security Council.
According to Bushnaf, he began the visit with a meeting that included Patrushev, his deputy Venediktov Nikolayevich, Deputy Foreign Minister Mikhail Bogdanov, and other Russian officials.
The Libyan News Agency reported last Tuesday that Bushnaf discussed "joint cooperation mechanisms between the two friendly countries, through both countries' security councils." The talks also covered exchanging views on the current security situation in Libya, the Middle East, and North Africa.
The discussions further explored shared interests in counter-terrorism issues, emergency response cooperation, and mitigating consequences, especially in the aftermath of storm Daniel, which hit eastern Libya in September.
Bushnaf also met with Bogdanov at the Russian Foreign Ministry, and with State Minister and Deputy Minister for Civil Defense and Emergency Situations, Serko Alexey Mikhailovich, at his ministry.
During these meetings, the Libyan delegation was briefed on the workings of the Russian side. A joint meeting followed, focusing on training and development areas, and exploring how Libya could benefit from Russian expertise in these sectors.
Libya has been in chaos since a NATO-backed uprising toppled longtime leader Muammar Gaddafi in 2011. The county has for years been split between rival administrations, each backed by rogue militias and foreign governments.
The current stalemate grew out of the failure to hold elections in December 2021, and the refusal of Prime Minister Abdel-Hamid Dbaiba, who is leading the transitional government, to step down.