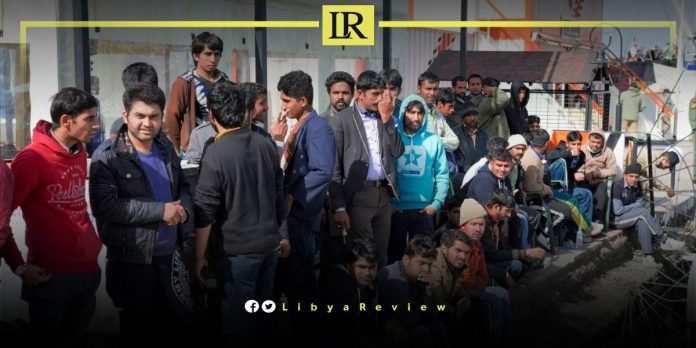 Leaders from the Pakistan Peoples Party (PPP) have urged the Pakistani government to facilitate the return of 400 migrants, who have been detained in Libya for the past four months.
Speaking at a press conference, former PPP district president, Aurangzeb Khan, along with Haji Khan Bahadar and Eng Hifzoor Khan, highlighted that the Pakistani nationals were arrested by Libyan authorities on 31 July, as they attempted to travel to Europe.
Accompanied by family members of several detainees, the PPP leaders stated that the Pakistanis were arrested from human smugglers' warehouses, where they were being held while attempting to enter Europe.
The PPP leaders, citing media reports and information from family members, stated that all the migrants had been transferred to prisons for deportation to Pakistan, after completing the necessary procedures. They claimed that all formalities were finalized in September, and the Libyan government was prepared to facilitate their immediate return home.
However, they alleged that Pakistani authorities were reluctant to permit their return, citing suspicions about their nationalities.
PPP leaders contended that the migrants were indeed Pakistani citizens, possessing valid passports and other documents. They argued that it was the responsibility of the Pakistani mission in Libya, and Foreign Office officials to verify the detainees' nationalities at the time of their arrest.
The leaders criticised the government, particularly the Interior Ministry and Foreign Office officials, for the delay.
They emphasised that the detainees' identities should have been investigated by the Pakistani Embassy in Libya, when they were initially arrested.
In another context, recent data from the Italian Interior Ministry revealed a surge in migration, with 47,300 migrants arriving in Italy from Libya, since the beginning of the year.
The data, released on Monday, indicated that approximately 30,000 of these migrants departed from the western region. The remainder originated from the east, according to Italy's news agency, NOVA.
Italy has witnessed the arrival of 95,000 migrants through Tunisia, averaging 300 daily. This marks a substantial increase compared to 2022, when only 32,000 migrants used this route.