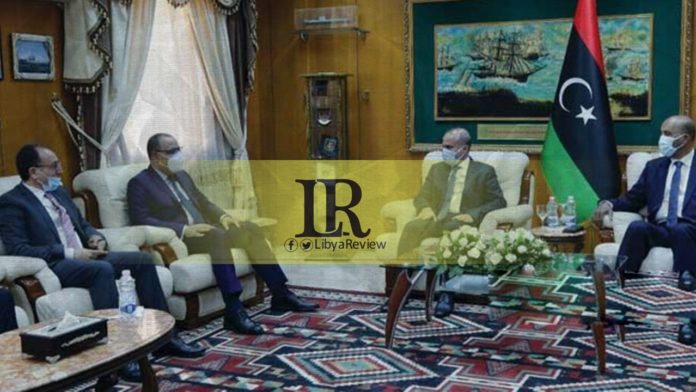 On Sunday, two members of the Libyan Presidential Council, Musa Al-Koni and Abdullah Al-Lafi held a meeting with the Tunisian Prime Minister, Hichem Mechichi, who is currently visiting Libya at the head of a high-level government delegation.
During the talks, Al-Koni and Al-Lafi praised the fruitful outcomes of Mechichi's meeting held on Saturday with his Libyan counterpart, Abdulhamid Dbaiba. They said that it had proved the firm desire of both sides to develop horizons for more cooperation, to achieve an economic integration between the two neighboring countries for the benefit of the two brotherly peoples.
They also emphasized the depth of the historical relations linking Libya and Tunisia as well as the need to enhance bilateral cooperation between the two countries.
The two Libyan officials stressed the need to work to hold a Maghreb Summit at the level of Foreign Ministers, to revive the important role of the Union of Maghreb countries in tackling all files that concern Maghreb affairs.
On Sunday, the Libyan Prime Minister and his Tunisian counterpart inaugurated the activities of the Libyan-Tunisian Economic Forum. The event was attended by a number of Ministers In both countries, which will last for three days on Tripoli International Fair (TIF) grounds.
Libya and Tunisia also signed an Accord aimed at "facilitating commercial trade and the movement of citizens" between the two states.
Libya descended into chaos following the 2011 revolution that toppled and killed veteran leader Moammar Gaddafi.
The turmoil sharply reduced cross-border trade and turned Libya into a launchpad for a series of bloody jihadist attacks in Tunisia.
But ties have improved since Dbaiba was sworn in earlier this year under a United Nations-led process to restore stability in Libya.
Tunisian President, Kais Saied, visited Libya in March, and on Tuesday TunisAir announced it resumed flights to Libya.