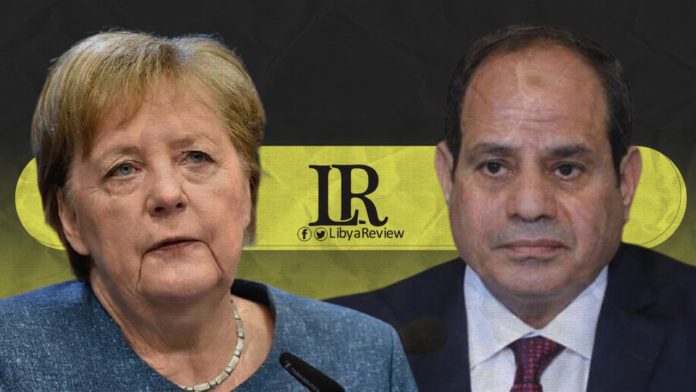 Egyptian President, Abdel-Fatah El-Sisi and German Chancellor, Angela Merkel exchanged views on the current developments in Libya, during a scheduled call between the two leaders.
According to the statement, El-Sisi reviewed Egypt's efforts aimed at supporting the current transitional phase in Libya, leading to the elections in December. Chancellor Merkel praised Egypt's role in the Libyan crisis, "which strengthened the course of the political process in Libya."
During the call, the two leaders affirmed the importance of the departure of mercenaries and foreign forces from Libya. "The departure of foreign forces from Libya will enhance the smoothness and success of the transitional period, and contribute to meeting the aspirations of the Libyan people." They also agreed to continue bilateral coordination in this regard, the statement concluded.
Earlier this month, Merkel told Turkish President Recep Tayyip Erdogan that the withdrawal of foreign troops from Libya would be an "important signal."
"Merkel and Erdogan agreed to support the Government of National Unity (GNU) in preparing elections by year-end," the German government spokesman said.
The GNU was elected in a UN-brokered peace process in February 2021. The government is set to lead the country until the December general elections.
Berlin is set to host a foreign ministers' conference on Libya in June. In January 2020, the Berlin International Conference on Libya, at the invitation of Chancellor Merkel, gathered leaders of eleven countries, as well as the UN. They agreed to unify the country's institutions, end foreign intervention, respect the UN arms embargo, and implement a ceasefire agreement.
In April, the Syrian Observatory for Human Rights (SOHR) reported that the Turkish government sent a new batch of 380 Syrian mercenaries to Libya. "There are still more than 6,630 mercenaries in Libya, amid Turkish intentions to keep groups of Turkish-backed Syrian fighters in Libya to protect Turkish interests," it noted.