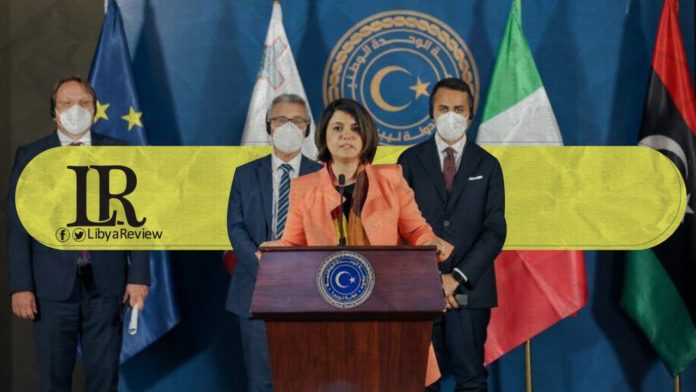 On Friday, Libyan Minister of Foreign Affairs Najla Al-Mangoush met with Italian and Maltese Foreign Ministers Luigi Di Maio and Evarist Bartolo, along with European Union Commissioner for Neighborhood Policy and Enlargement Negotiations Olivér Várhelyi.
In a press conference held after the meeting, Al-Mangoush said that securing Libya's southern borders is a "priority." EU officials stressed the need for supporting Libya with resources, technologies, and all material means to achieve this.
The three European officials arrived in Tripoli on Friday morning on a last-minute visit aimed at "determining the path of European support for the achievement of social and economic recovery in Libya."
According to the Italian "AKI" news agency, Al-Mangoush described illegal migration as a "sad story" and considered it a "humanitarian, national and economic security" problem. She stressed the need for a "comprehensive strategy and policy to solve this file, from which Libya is suffering."
Al-Mangoush said that the Coast Guard should be part of the strategy to combat the phenomenon of illegal immigration and "not the solution."
The Libyan Foreign Minister also pointed out that the European Commissioner asked Libya to help in returning some migrants to their countries as well as assessing the situation of migrants on the ground.