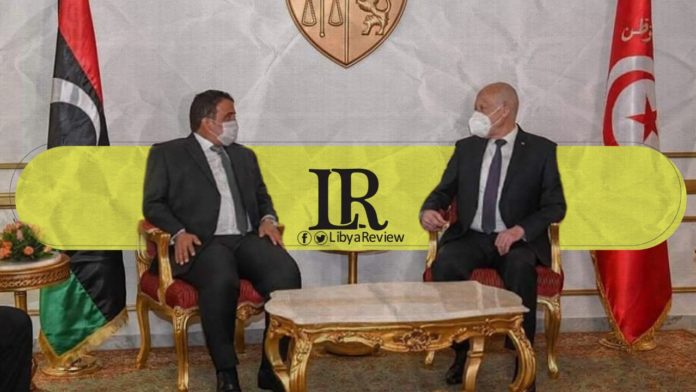 On Saturday, the Head of Libya's Presidential Council, Mohammed al-Mnifi arrived in Tunisia for a three-day state visit.
Upon his arrival, Tunisian President, Kais Saied received al-Mnifi at the presidential wing of the Tunis Carthage International Airport.
The Guard of Honor welcomed the Head of Libya's Presidential Council in Tunisia, while a military band played the national anthems of both countries.
According to the media office of the Tunisian Presidency, the two leaders will hold private discussions at Carthage Palace, preceded by expanded talks in the presence of the delegations of the two countries.
According to the source, these discussions will touch on the progress of the cooperation and relations between the two countries and overcoming any difficulties they encounter in order to solidify their strategic partnership.
The summit will discuss a number of regional and international issues of mutual interest as well as ways to strengthen bilateral relations and cooperation in all fields, especially at the security, economic and investment levels.
Both Presidents are scheduled to hold a joint press conference following the talks.
Tunisia hosted United Nations-backed talks between representatives of Libya's warring factions late last year, helping pave the way for the recent political breakthrough.
Before Libya's descent into chaos following the 2011 overthrow of leader Moammar Gaddafi, it was a major customer for Tunisian farm produce and building materials, as well as migrant labor.
The long years of conflict have resulted in prolonged border closures that have hit businesses hard, particularly in consumer goods, an economic mainstay in border towns.