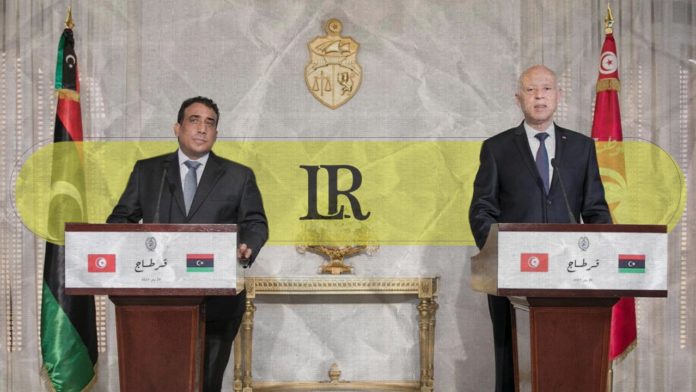 On Saturday, Tunisian President, Kais Saied, stressed his country's unwavering support for all Libyans to rebuild state institutions, calling for more solidarity and cooperation between the two countries.
In a joint press conference held with the visiting President of the Libyan Presidential Council, Mohammed al-Mnifi, the Tunisian President also stressed the need for concerted efforts to meet the aspirations of the peoples of the neighboring countries.
On his part, al-Mnifi appreciated Tunisia's supportive role for his country, adding that his visit was scheduled to discuss a number of issues of common interest between the two countries. He explained that he discussed enhancing joint cooperation between the two sides at economic, security, cultural, and educational levels.
He also stressed the importance of coordination in the security situation, especially in light of the critical stage being witnessed by Libya.
Earlier today, the Head of Libya's Presidential Council, al-Mnifi arrived in Tunisia for a three-day state visit.
The visit came at a time when the Libyan Political Dialogue Forum (LPDF) failed to reach consensus on the constitutional basis on which the elections will be held.
Tunisia hosted United Nations-backed talks between representatives of Libya's warring factions late last year, helping pave the way for the recent political breakthrough.
Before Libya's descent into chaos following the 2011 overthrow of veteran leader Moammar Gaddafi, it was a major customer for Tunisian farm produce and building materials, as well as migrant labor.