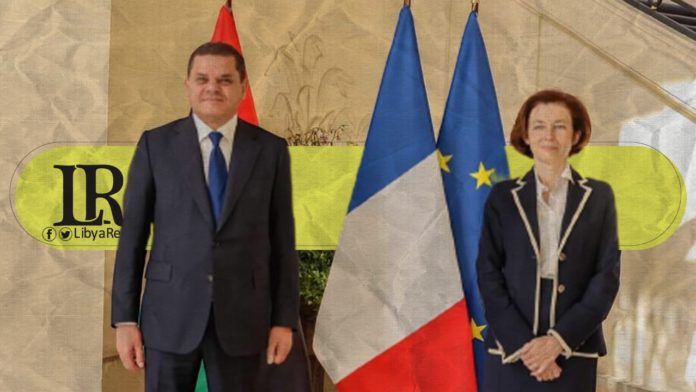 On Tuesday, the Prime Minister of the Government of National Unity (GNU), Abdel-Hamid Dbaiba held talks with France's Minister of Defence, Florence Parly, to discuss cooperation in securing Libya's southern borders.
The meeting was also attended by Minister of Interior, Khaled Mazen, and Minister of State for Cabinet Affairs, Adel Jumaa. They discussed the follow-up of bilateral security cooperation files, and the activation of a number of agreements concluded between Tripoli and Paris over the past years.
The Prime Minister stressed that preserving the sovereignty of Libya would be the basis for its relations with all world countries. He added that developing bilateral ties with France in the security, economic, and political fields is a matter of particular importance for the current government.
Notably, Dbaiba held a meeting with French Foreign Minister Jean-Yves Le Drian in Paris, where they discussed joint coordination on the Berlin II Conference, as well as the upcoming UN Security Council sessions chaired by France.
Dbaiba stressed the important role of France in uniting international efforts to consolidate political legitimacy, extend national sovereignty across the country, and end the foreign presence in Libya.
The conference is set to take stock of progress made since the Berlin Conference on Libya on 19 January 2020. This is in addition to discussing the next steps needed for a sustainable stabilization of the country.
The main focus will be on preparations for the general elections scheduled for 24 December, and on the withdrawal of foreign troops and mercenaries from Libya as agreed in the ceasefire.
The participants will also discuss steps towards the creation of a unified Libyan security force.