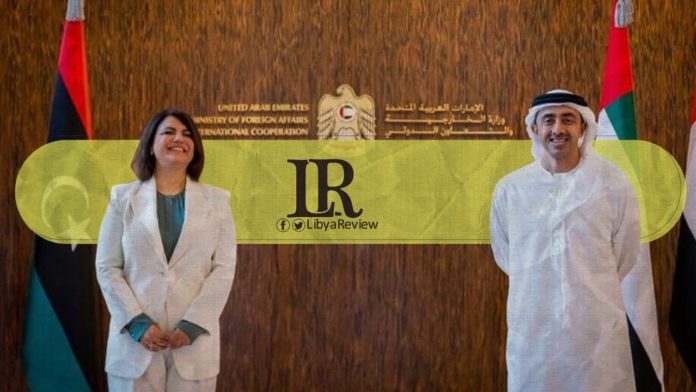 On Saturday, Sheikh Abdullah bin Zayed Al Nahyan, the UAE's Minister of Foreign Affairs and International Cooperation expressed his country's support for all sincere efforts that lead to a secure, stable and prosperous Libya.
During the meeting, which was held at headquarters of the UAE Ministry of Foreign Affairs in Abu Dhabi, bin Zayed, with his Libyan Counterpart Najla Al-Mangoush, discussed the well-established brotherly relations between the UAE and Libya and ways to strengthen and develop them.
The two sides reviewed the developments of the situation on the Libyan arena and the importance of supporting the Government of National Unity (GNU) during its leadership of the transitional phase and preparation for the elections scheduled for December 2021.
Bin Zayed welcomed Al-Mangoush's visit. He stressed the depth of the UAE-Libyan brotherly relations and keenness to strengthen and develop them for the benefit of the peoples of the two countries.
He pointed out that the UAE always stands by the Libyan people to achieve their aspirations for stability, development and prosperity.
The UAE's Foreign Minister also valued the efforts made by Libya's GNU during its leadership in the current phase and what it is doing to consolidate the pillars of security and stability in Libya. He praised the government's efforts to create all the appropriate conditions for holding the elections scheduled for next December.