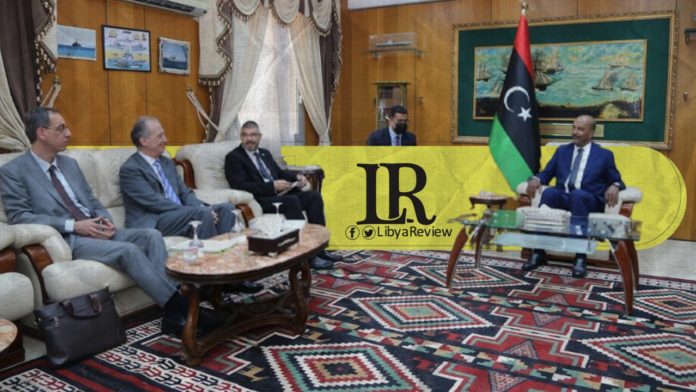 Deputy Head of Libya' Presidential Council, Mousa Al-Koni, met with the EU Ambassador to Libya, José Sabadell and his accompanying delegation, to discuss joint efforts to control the porous Libyan border.
The meeting, which was held in Tripoli, was attended by the Head of European Union Border Assistance Mission in Libya (EUBAM), Natalina Cea and the Commander of EU Civil Guard, Francisco Esteban.
Al-Koni said the Presidential Council intends to take a number of important decisions and measures, related to national security in the southern region. He added that he would be visiting a number of neighbouring countries to study security issues, and cooperate with them in securing the common borders.
"After the terrorist bombing attack that targeted a security point in the city of Sebha, the Presidential Council decided to form a security committee headed by the Minister of Interior to investigate the incident, prosecute the perpetrators, and bring them to justice," Al-Koni told the European delegation.
He claimed that control of the Libyan borders is "possible," if Libya received international and European, logistical and technical assistance and support.
Esteban stated that the visit of the EU delegation comes within the framework of strengthening joint cooperation, especially with regard to security, border management, law enforcement, and criminal justice.
"The purpose of the visit is also to discuss with you the support mechanisms that the European Union programs will provide to Libya, especially in the southern regions due to the influx of illegal immigration from there," Esteban added.
The European delegation confirmed that it would also review European assistance to the Libyan Coast Guard, in order to help support Libya's maritime borders in accordance with an integrated Euro-Mediterranean strategy. Esteban concluded that the European Union was "grateful" for Libya's adoption of the National Counter-Terrorism Strategy.