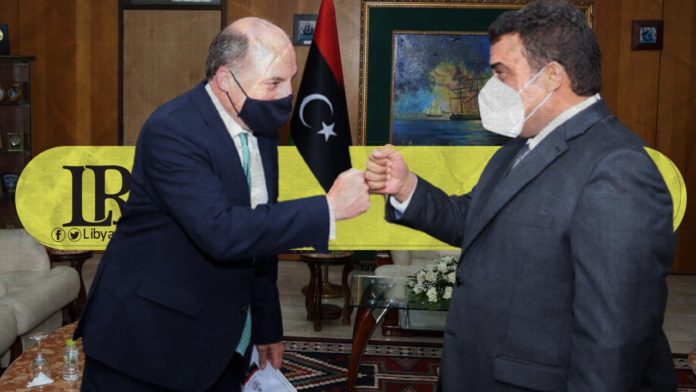 On Thursday, the Head of Libya's Presidential Council, Mohamed Al-Mnifi praised Britain's role in advancing the political process in Libya. As well as its commitment to cooperating with the international community to support the Government of National Unity (GNU), and the implementation of the current roadmap agreed upon by members of the Libyan Political Dialogue Forum (LPDF).
These remarks came during Al-Mnifi's meeting with the British Minister for the Middle East & North Africa, James Cleverly, and the British Minister of Defense, Ben Wallace who are currently visiting Tripoli.
During the meeting, the British delegation valued Al-Mnifi's keenness to unify state institutions, and confirmed the necessity of holding the upcoming elections as scheduled. They also stressed the need to remove all mercenaries and foreign fighters from the country, and voiced their readiness to work on rehabilitating the military institution.
Al-Mnifi emphasised the need for Britain and the international community to cooperate in supporting the GNU, and the 5+5 Joint Military Commission (JMC).
On Friday, UK Permanent Representative to the United Nations, Barbara Woodward called on the international community to hold accountable those found to be obstructing the political process, and violating the UN arms embargo on Libya.
In a briefing to the UNSC, she called on the GNU to take the necessary measures to provide basic services, unify institutions, and hold the December elections.
UN Envoy on Libya, Jan Kubis, called for a sequenced withdrawal of all foreign forces and mercenaries from Libya, with monitoring provided by the United Nations Support Mission in Libya (UNSMIL).