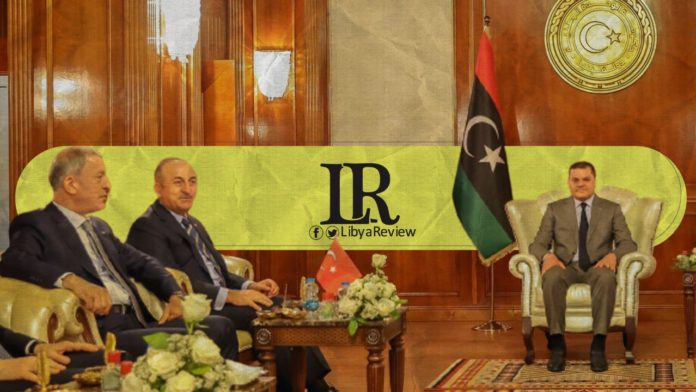 On Saturday, the Turkish Foreign Minister, Mevlut Cavusoglu, said that the cooperation between Ankara and Tripoli will continue "for the stability and prosperity of Libya."
"I met with Libyan Prime Minister Abdelhamid Dbaiba and we confirmed our support for Libya, ahead of the second Berlin conference. Our cooperation will continue for a safe, stable and prosperous Libya," the Turkish Foreign Minister said in press statements.
The statements of the Turkish top diplomat came after separate meetings with Dbaiba, and the two Deputy Heads of the Libyan Presidential Council, Abdullah Al Lafi, and Musa Al-Koni.
A Turkish high-level delegation landed in Libya for an unannounced visit to the North African country upon the instruction of Turkish President, Recep Tayyip Erdoğan, according to an official statement on Saturday.
The visit comes prior to the North Atlantic Treaty Organization (NATO) summit, due to be held on Monday, June 14th in the Belgian capital Brussels.
The statement, issued by the Communications Department of the Turkish Presidency, stated that the delegation led by Foreign Minister, Mevlut Cavusoglu, includes National Defence Minister, Hulusi Akar; Interior Minister, Suleyman Soylu; Chief of General Staff, Yasar Guler, Intelligence Chief, Hakan Fidan; Communications Director, Fahrettin Altun and Presidential Spokesman Ibrahim Kalin.