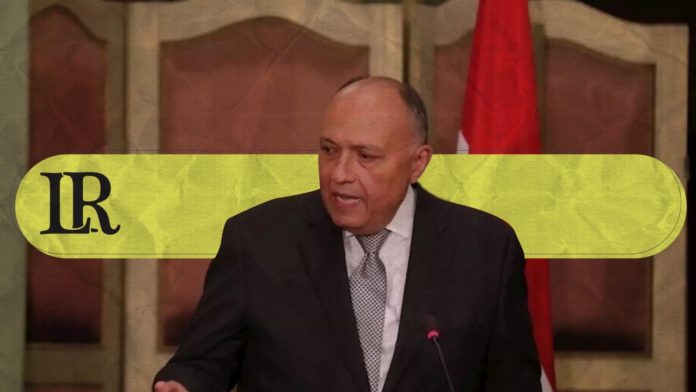 On Sunday, the Egyptian Foreign Minister, Sameh Shoukry, affirmed that Egypt has good relations with all Libyan parties. These relations will enable it to complete all mechanisms required for reaching consensus for holding the upcoming elections as scheduled.
In a televised interview, Shoukry explained that Libyans should find political solutions in order to put an end to the past ten years of conflict. This will help them start rebuilding their country and enjoy stability. He indicated that the international community supports the departure of all mercenaries and foreign fighters from the North African country.
He added that his country also supports the strengthening of security institutions, including the army and the police, to support Libyan stability, which is of great importance for Egypt's security and stability
The Egyptian top diplomat also called for backing efforts to rebuild the Libyan national institutions and to reach a comprehensive solution to the crisis, based on Berlin conference and the Cairo declaration.
"The international community remains ready to continue its close and constructive support of the United Nations (UN)-led peace process in Libya", he noted.
Libya was thrown into a decade of violence following the 2011 overthrow of leader Moammar Gaddafi.
Berlin hosted the first round of the UN-sponsored talks on January 19th, 2020, gathering leaders of warring Libyan sides as well as the Presidents of Russia, Turkey, France and Egypt to bid for peace in the conflict-torn country.
At that conference, world leaders committed to ending all foreign meddling in the conflict and to uphold a weapons embargo.
Since then, a formal truce last October led to the creation of an interim government tasked with unifying Libya's divided institutions, launching reconstruction efforts, and preparing for December polls.