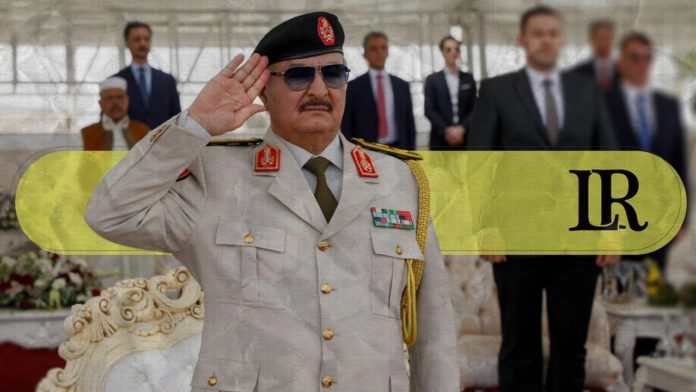 The Egyptian journalist, Mustafa Bakri, revealed the content of a two-hour interview that he held with the Commander-in-Chief of the Libyan National Army (LNA), Field Marshal Khalifa Haftar. The interview included discussions of 2014's Operation Dignity, "the obstacles, crises, conspiracies, betrayals, and the war that the LNA fought against militias and mercenaries."
During the "Facts and Secrets" program, which is broadcast on the Egyptian Sada El-Balad channel, Bakri added that they also dealt with current developments, future prospects, and Field Marshal Haftar's vision of the relationship with Egypt. As well as Arab national security, international events, and their repercussions on Libya, and the Arab world.
"Libya was in a state of chaos before 2014. Internal conflicts, external interventions, arms proliferation between citizens, and the killings that were taking place in broad daylight. The country was rife with crises and problems," Haftar said.
He added that foreign powers have provided rival militias with weapons and heavy equipment, "The numbers were large, more than 230,000 armed elements came to Libya from abroad, and everyone wanted to inherit the stage after the fall of the regime."
Haftar said that millions of weapons were dispersed among people in a time exacerbated by terrorism. This led to multiple demonstrations calling for the return of the army and police to eliminate armed terrorist elements.
"It was natural in the face of the deteriorating situation that Operation Dignity was launched, and we were not aiming for an authority or a gain, and our cause was, and still is the country's security, unity, and stability. We were a limited group of officers and soldiers, but we had great faith and unrelenting determination. The call was spread throughout Libya, we took the Al-Rajmah area in the south of Benina as the headquarters of the military command, after fierce battles in which we took control of the airbase, the airport, and the cities. The terrorists were crawling from Benghazi to Benina," the commander said.
"On 14 October 2014, the army managed to recover the region from terrorism, and the battles we fought were among the most important. They constituted a strong victory that raised the morale of the people, the army, and the police alike. The Dignity Revolution from the beginning constituted a lifeline for many," he added.
According to Bakri, Haftar claimed: "The Libyan people, with their various tribes and national elements in all regions, supported Operation Dignity and considered it necessary to restore the state. I did not hesitate. The fighter does not know how to escape from the field. I knew from the beginning that the task was difficult, but I was determined to build the army from scratch and arm it. I worked to revive the spirit of hope and enthusiasm again, and we all succeeded in building a small force that quickly grew. We received in our camps former and current officers and soldiers who joined us, and young people who came to us from all tribes to save Libya from terrorism and terrorists."
He said: "The battles in Benghazi were violent, hit-and-run attacks, supported from abroad. We did not despair. By 2016, the army forces took control of about 90% of the city. We did not stop, nor were we satisfied, and we were determined to liberate every part of Benghazi. On the 6th of July 2017, the army announced the liberation of Benghazi after three continuous years of siege and fighting, and this was the case in Derna and other areas liberated by the army."
Field Marshal Haftar said: "Whatever the Libyan people want, we are with them, the mercenaries must first withdraw and the militias be dismantled before any elections. This is a goal previously decided by the Cairo Declaration, the Berlin Conference, and other agreements. Mercenaries and militias are the enemies of this country, and we should not be silent about them under any pretext and for any reason. We welcomed the step of choosing the President