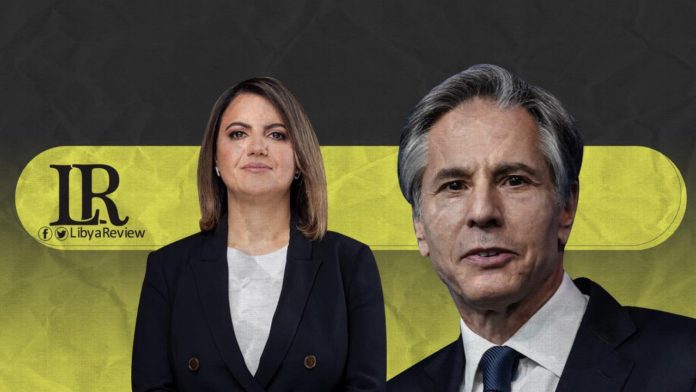 The Libyan Minister of Foreign Affairs, Najla Al-Mangoush reiterated the keenness of the executive authorities in Libya to implement the preliminary stage of the political roadmap, stressing the importance of the United States' support for Libya at the Berlin II Conference.
This came during a telephone call with US Secretary of State, Antony Blinken, where he affirmed his support for the stability of Libya, and his hope to work with international partners to support the December elections.
The two sides also emphasised the need for the full implementation of the 23 October ceasefire agreement, including the immediate withdrawal of all foreign forces and mercenaries from Libya.
Blinken also stressed the United States' commitment to increasing diplomatic engagement, in order to promote international efforts supporting progress in Libya.
On Wednesday, Al-Mangoush met her Sudanese counterpart, Maryam Al-Sadiq Al-Mahdi, to discuss unifying efforts regarding issues of common concern.
Al-Mangoush stressed that there is an urgent need to work with the Sudanese authorities regarding mercenaries, illegal immigration, border security, and combating smuggling and organized crime, in a way that contributes to achieving security, peace, and stability in both countries.