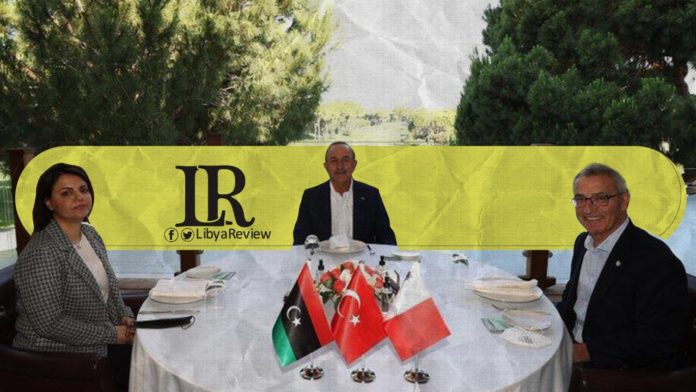 On Saturday, the Libyan Foreign Minister, Najla Al-Mangoush, held a tripartite meeting with her Turkish and Maltese counterparts, Mevlut Cavusoglu and Evarist Bartolo respectively.
The meeting takes place on the sideline of the Antalya Diplomatic Forum, which was hosted by Turkey on Friday to discuss the latest political developments in Libya. They also discussed the interim government's preparations for holding the country's upcoming elections scheduled for December 24th, 2021.
They also discussed ways of enhancing bilateral relations between Libya, Turkey and Malta as well as means of joint cooperation.
During the talks, Bartolo confirmed that Malta is fully committed to advancing diplomatic engagement to enhance international efforts to support progress in Libya.
The Libyan Minister previously called on Turkey to withdraw its forces from Libya as soon as possible, in a way that guarantees the North African country's national sovereignty.
Notably, Al-Mangoush is set to meet her Egyptian counterpart, Sameh Shoukry, at Tahrir Palace in Cairo today.
Well informed sources told Libya Review that Al-Mangoush and Shoukry will discuss developments on the Libyan arena, especially pertaining to holding the elections on December 24th of this year.
They will also review the importance of pushing forward the agreed steps and procedures within the framework of the political process, the source added.
Shoukry affirmed that Egypt pays great attention to the situation in Libya and will always continue its tireless efforts internationally to restore stability in the North African country and preserve its security and sovereignty.
In a press conference on Wednesday he said that the upcoming Berlin conference II comes after the current Libyan interim government assumed power and made efforts to implement all the outcomes of the Libyan Political Dialogue Forum (LPDF) in Geneva, in accordance with the agreed-upon timeframe.