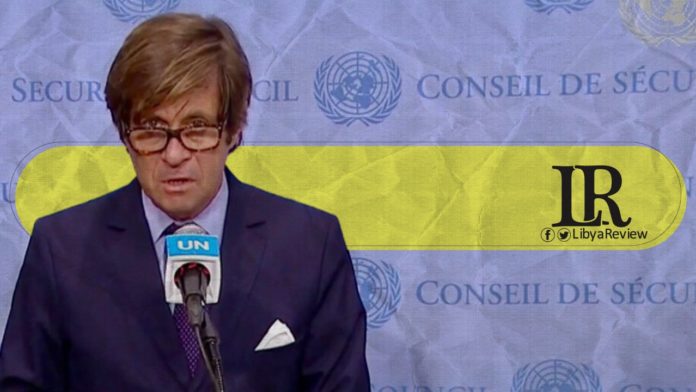 The Permanent Representative of France to the United Nations (UN), Nicolas de Rivière, affirmed that his country shares the Libyans' concerns pertaining to the presence of mercenaries and foreign armed groups in their country.
In a meeting of the UN Security Council on Friday, de Rivière reiterated France's support for the ongoing political transition process in Libya.
He stressed the importance of achieving the full implementation of the October 23rd Libyan ceasefire agreement that includes the withdrawal of all foreign forces and mercenaries from Libya, in line with the UNSC's Resolution 2570. He also highlighted the importance of not allowing the issue to pose negative impacts on the security situation in the Sahel region.
De Rivière also called for the full implementation the arms embargo on Libya, stressing that all foreign forces, non-state armed groups and mercenaries must withdraw from Libya. He confirmed that France "is working closely with its partners and neighboring countries so that this withdrawal is achieved without delay."
On the situation in southern Libya, he said that, "no one controls the active armed groups and mercenaries there, so we need a specific, effective and collective response. France is ready to work on this matter with its partners."
De Rivière also highlighted the need to pay special attention to the demobilization, disarmament and reintegration of militias deployed in the North African country, as well as their travel. This with the aim of not causing negative impacts on the situation in neighboring countries and the region.
He called for enhanced settlement of the root of the problem through building trust and promoting dialogue, conciliation, tolerance and enhancing mutual understanding and boosting socio-economic development for people and the community.
A UN estimate released in December 2020 noted that some 20,000 foreign fighters and mercenaries remained active in the country. It is a threat to the ongoing peace process and the holding of elections scheduled for December 24th. The departure of these foreign forces requires careful management to avoid the spread of conflict, with terrorist fighters and arms crossing "the porous borders of the Sahel countries".